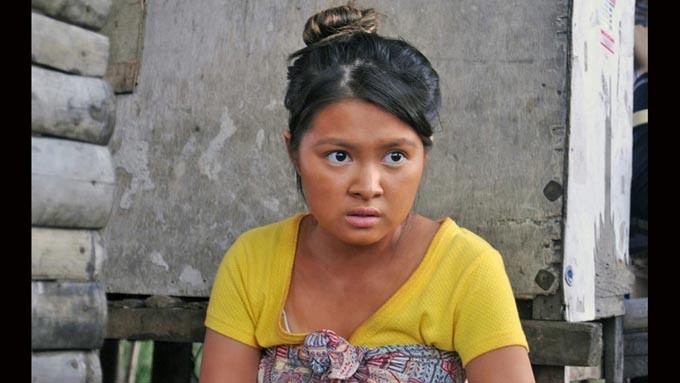 ---

We know them as the Badjao, but this ethnic people that have been labeled "sea gypsies" rarely refer to themselves using that term.

They are indigenous peoples of Mindanao, but due to the continued armed conflict, they have been forced to migrate to Malaysia or to other parts of the Philippines, including Metro Manila.

Some of them end up as mendicants begging or singing songs to receive a pittance. The film Laut is about one tribe called Sama d'Laut. They have found a settlement somewhere in Pampanga, where the land still bears traces of the havoc from the Mt. Pinatubo eruption. In a landlocked province, they still build their homes on stilts and instead of on the shore, near dikes—a far cry from all that they are accustomed to.

Laut is derived from the Tagalog term used to refer to "going out to sea" and the Kapampangan for "very far."
Starring Barbie Forteza as Nadia, the movie is social realism as portrayed by director Louie Ignacio.

Nadia is a young woman who witnessed her younger sister Nashia married off because she has already started menstruating—a sign of womanhood and a sure sign that a girl from their tribe needs to be married off. But Nadia keeps the dowry given by her new brother-in-law's family, in case Nashia wants to come back to her sister later on.
Nadia herself is married to a lazy husband, Adil, but she finds refuge in her community of tribespeople. She and her best friend Kadapi (Boobay Balbuena) sell cheap wares from Baclaran on the streets of Pampanga.
Perla Bautista is Mumina, mother of Ana Capri, as Marinda, who, together with young siblings Izza and Aziz, wake up every day and go out to a life of vagrancy on the streets.
The story is believable and deeply rooted in reality. Barbie, Perla, and Ana Capri shine as strong, highly-motivated women who make the most of their circumstances.

Some parts of the story, we already foresee what is coming: but this is because they are familiar and happen again and again in Philippine society.
ADVERTISEMENT - CONTINUE READING BELOW
The camera pans from the beauty of the countryside then to the filth of subhuman conditions wherein the tribe has been forced to live. The dusty and congested streets are a backdrop for the many individuals who have taken to begging as a way of life—one scene even has Marinda arguing that begging is at par with any other job.

This minority exists without government assistance, because most of them are uneducated and cannot read nor write—and therefore, cannot vote. So they need to live as vagrants or worse, because of desperation, some have been forced to steal.
The story shows the cycle of life: from circumcision and menarche, wedding and burial.
Some scenes are reminiscent of Danny Boyle's Slumdog Millionaire. Yet, one needs not to go far. Social realism in Philippine cinema is nothing new and Direk Louie's treatment of the story is similar to Ishmael Bernal and Lino Brocka—two of the most admired Philippine directors of their generation.
The last line and the last scene are empowering and liberating. Barbie succeeds in drawing us in and rooting for her character to survive despite the muck.
The movie has several flaws: there are some inconsistencies in the script, stilted dialogue, unnatural acting. There are some suggestive shots that linger too much on a woman's or a man's body—but we take the good with the bad. Overall, it delivers a gripping story based on real life of a people who are part of the Philippines, but have been forced to the fringes.
The film also co-stars Gabbi Garcia, Jack Roberto, and Ronwaldo Martin, the younger brother of Coco Martin.
Laut will be screened as part of the Singkuwento International Film Festival on March 3 at 7:30 pm at the UP Film Center, University of the Philippines, Diliman, Quezon City.

This drama film is set to compete at the Director's Showcase Section of the Fantasporto International Film Festival in Portugal.

Other Singkuwento entries will be screened at the UPFI UP Film Center from March 2 to 4 and March 7 to 8, 2016.



Ed's Note: The "PEP Review" section carries the views of individual reviewers, and does not necessarily reflect the views of the PEP editorial staff.




ADVERTISEMENT - CONTINUE READING BELOW