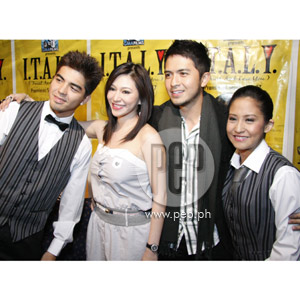 ---

The original plan for the press conference of I.T.A.L.Y.(I Trust and Love You) was to have the 7107 Island Cruise ship touraround Manila Bay. However, the weather did not cooperate since heavy rainsoccurred in Manila during the previous night. On the actual day of the presscon, rain did not mar the sky but the ship remained docked at the North Harborin Manila for the duration of the event.
Three continents, five countries and 13 cities serve asbackground of this charming and romantic story of intertwining lives anddestinies of six people on a seven-day cruise. Viewers will be able to catch aglimpse of the tourist spots in Genoa, Milan, Savona, Napoli, Florence, Pisa,Rome, (Italy); Marseilles (France); Barcelona, Palma de Mallorca, (Spain); andTunisia, Africa. The cast members and technical staff of this movie endured alot of hardships in creating this movie. According to the assistant director ofthe movie, the temperature on the upper deck of the Costa Magica cruise shipreached six degrees, almost freezing his hand on the camera.
I.T.A.L.Y. is GMA Films' newest big-screen offeringwill hit theaters on September 17 instead of the original opening date ofAugust 6.
In the film, show biz's eternal Miss Sunshine JolinaMagdangal plays the chambermaid Des Pinlac, a hopeless romantic who figures ina love triangle with lounge singer Rufa Mae Quinto. During the press con, the sexy comedienne did ariotous version of Cliff Richard's "Ocean Deep," a cut from her Viva Recordsalbum titled Four Sides of Rufa Mae. Dennis Trillo plays Paolo Guzman, arich man determined to exorcise the demons of a past that haunts him.
ADVERTISEMENT - CONTINUE READING BELOW
In real life, Rufa and Dennis did become a couple, but it only lasted several weeks since the actor was then being paired with Angel Locsin in Darna. Rufa Mae, who has found love again with an American executivenamed Bobby Lopez, now says of her former flame: "Masaya ako to have finallyworked with him [Dennis]. Proud ako na makasama ko siya kasi he's really one ofthe best actors in the country."
When asked if Dennis was one of the reasons she accepted theproject, Rufa quips: "Baka mapaaway ako. Wala na akong mahihiling pa. For now,ha. For tonight." She effortlessly brought the house down with her one-liners.
Dennis feels just as privileged to be working with Rufa Mae."Honored ako. [It's my] first time to work with her. She's a professional andfun to work with."
The women of I.T.A.L.Y. (Jolina, Rufa Mae, EugeneDomingo and Rhian Ramos) have found instant friends in each other. Jolinashares an anecdote about Eugene: "Si Uge brought a lot of medicines and charmsto the shoot na nakakapagpatanggal daw ng hilo [seasickness]."
Rhian's character, the headstrong Phoebe Villaroso, falls inlove with the cabin crew member Nathan Reyes (Mark Herras) while Eugene is asenior housekeeper named Lovely Mercado.
Rufa entertained the press with her trademark phrases like ibanglevel and bonggang-bongga, but gifted actress Eugene Domingo senteveryone laughing in her own way. When asked who among the male cast of themovie—Mark, Dennis, and newcomer Edgar Allan Guzman who recently starred in theindie film Imoral—she'd like to spend a night with, the comedienne was candidenough to admit, "Pasensiya na si Dennis at Edgar pero si Mark. 'Di ba kamukhaniya si George Clooney?" Then she turned to Mark whose cheeks naturally wentred because of this compliment. Eugene coyly told Mark: "Hindi mo hihingin angnumber ko?"
ADVERTISEMENT - CONTINUE READING BELOW
Directed by Mark Reyes,
I.T.A.L.Y.
will open incinemas nationwide starting September 17, 2008.