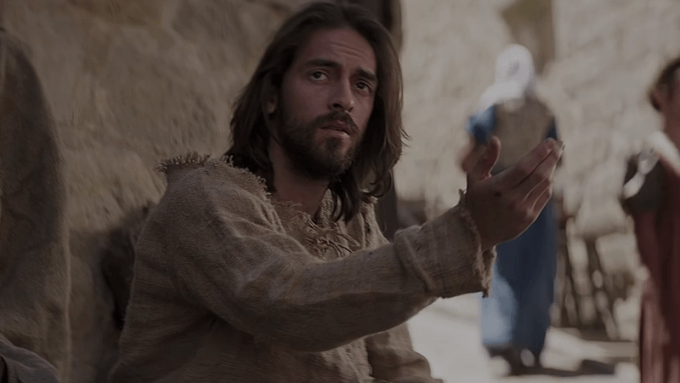 ---

The Filipino-produced historical biopic Ignacio de Loyola was screened in advance at the Vatican City last June 14.

It is considered to be the Filipino film to be screened at the Salle della Filmoteca Vaticana, the theater where Pope John Paul II and Pope Benedict XVI watched movies.

"Ignacio de Loyola became the first Filipino film to screen at this intimate, beautiful theater in the heart of the Vatican. The Salle della Filmoteca Vaticana is where Saint Pope John Paul II used to watch movies during his papacy," said director Paolo Dy on his Facebook account a day after the historic event.
Ignacio de Loyola is produced by Jesuit Communications Philippines. Spanish actor Andreas Munoz portrayed the title character, a soldier who was an officer in the Spanish army. He eventually became the founder of the Society of Jesus (Jesuits) and canonized as St. Ignatius.
Aside from directing the film, Paolo co-wrote the script with his wife Cathy with the help of Jesuit consultants.

The film was shot in Spain where some scenes of the hit series Game of Thrones were also shot.

Post-production was done entirely in the Philippines using the latest in CGI, sound mixing and visual balancing. Pro Ecclesia et Pontifice 2013 awardee Maestro Ryan Cayabyab created the musical score which was brought to life by the ABS-CBN Philharmonic Orchestra.

Ignacio de Loyola and Game of Thrones were both featured in Diario de Navarra last year. Both films were shot in Navarra, Spain, with Ignacio de Loyola shooting ahead of GoT.

Direk Paolo's movie was shot primarily in Navarra and the Basque Country of Spain in 2015, with some additional special-effects scenes shot in the Philippines.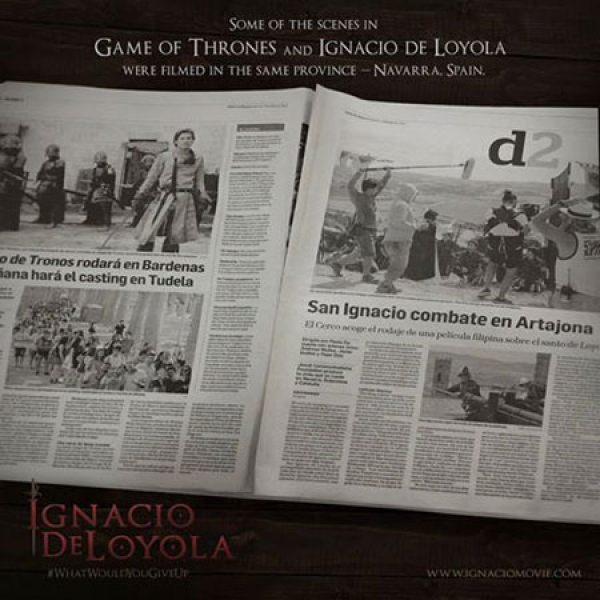 Ignacio de Loyola is a dramatic retelling of the soldier-saint's conversion, starting with his former life as a man of vice and violence, continuing through his near-fatal injury at the Battle of Pamplona, his attempts to turn his life towards the light, his intense struggle with guilt and depression, his trial before the Inquisition and his ultimate vindication.

According to a report by Eurasiareview.com and sjapc.net, some Vatican officials who were able to watch the advance screening are Fr. Federico Lombardi, SJ, the current director of the Holy See Press Office; Fr. Antonio Spadaro, SJ; Fr Adolfo Nicols SJ, Superior General of the Society of Jesus; Dr Claudia di Giovanni of the Vatican Secretariat for Social Communication; and Abp Luis Francisco Ladaria Ferrer, Secretary of the Congregation of the Doctrine of the Faith.
ADVERTISEMENT - CONTINUE READING BELOW
In an interview with CNN Philippines, Paolo said the film received favorable reviews from those who attended the screening. He said, "It was a very fruitful screening, I think everyone enjoyed it. I think Jesuits there were quite happy."
The film and commercial director added, "Many of them said they were happy with how faithful it was with who St. Ignatius was as a person and as far as his philosophy."
The lack of features about the life story of the saint inspired Paolo and the producers to create the film. He told CNN Philippines, "It's been a longtime since something a contemporary or modern has been made about the life of St. Ignatius."
Paolo also said that St. Ignatius' life story remains relevant to the modern youth. He explained, "His life is very instructive even for a modern... especially for a modern audience because he dealt a lot of issues in his youth that I think many of today's youth are gonna be able to relate to.
"Issues about wanting to be more, wanting to find happiness, wanting to find fulfillment, and chasing something they thought was gonna work and then having to change their lives because of something that happened.
"So overcoming a tragedy, overcoming difficulty, I think these are things a lot of people can relate to and be useful in their lives."
The movie will have its Philippine premiere on July 23 and will open in cinemas nationwide starting July 27.

(To learn more about this biopic, read: Little miracles mark shooting of St. Ignatius film)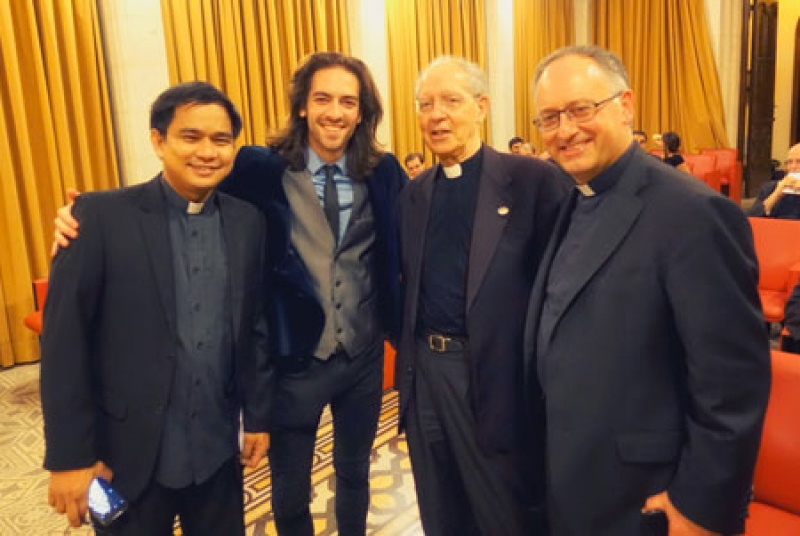 Head of Jesuit Communications (JesCom) Fr. Emmanuel "Nono" Alfonso SJ, Ignacio de Loyola lead actor Andreas Muoz, Superior General of the Society of Jesus Very Rev. Fr. Adolfo Nicolas SJ, Director of La Civilta Cattolica Fr. Antonio Spadaro SJ