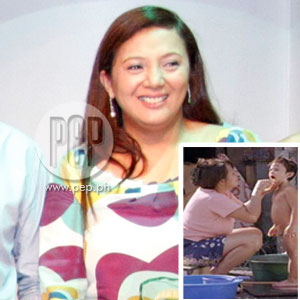 ---

Brillante "Dante" Mendoza was pleasantly surprised toreceive an email earlier today, August 14, informing him that his film FosterChild won the NETPAC award in the 17th Brisbane International Film Festivalin Australia. The said filmfest was held last July 31 to August 10.


The NETPAC (Network for the Promotion of Asian Cinema) awardis given at select international film festivals to promote Asian cinema byspotlighting exceptional films and discovering new talents.


This triumph of Foster Child, an indie film starringCherry Pie Picache, comes on the heels of the announcement that the actress wonBest Actress from the Durban IFF for two consecutive years. The Best Film prize also went to Foster Child for "delving with remarkable skill into the everyday lives of its extremely well-developed characters, and for fusing documentary and drama to create a brave, humane and unconventional film."


This film earned for Direk Dante his third NETPAC award. In2007, he won in South Korea's Jeonju IFF for Kaleldo. Last April, Tiradoralso bagged a NETPAC award in the Singapore IFF.


Foster Child, written by Ralston Joel Jover andproduced by Robbie Tan's Seiko Films, is represented by Ignatius Films Canada.
Direk Dante has been honored previously by the BrisbaneInternational Film Festival. In 2006, his film Masahista won theInterfaith Jury award.

However, Direk Dante is proudest of the fact that his controversial film Serbisis the first Filipino film to take part in the New York Film Festival.


Presented by The Film Society of Lincoln Center, theannual New York Film Festival will showcase new works by both emerging talentsand internationally recognized artists from September 26 to October 12, 2008.The 17-day festival chooses inspiring and provocative cinema by emergingtalents and first-rank international artists whose films are often recognizedas contemporary classics.


The Filipino film is described byNYFF as follows: "A family tries to quell the tensions tearing it apart whileit struggles to keep the family business—a porn movie theater—afloat."
ADVERTISEMENT - CONTINUE READING BELOW
This afternoon, PEP (Philippine Entertainment Portal)exchanged phone calls and text messages with Direk Dante as he explained why heis very pleased that Serbis was chosen as one of 20 films included inthe 46th edition of this film fest.


"This is a very important filmfestival to me since you're regarded as one of the best," declares Direk Dante."Only 20 films all over the world are chosen, including those from Cannes. Forme, this honor is second to Cannes. Yung Toronto IFF is also big but it is moreof a film market."
According to the prolific director,being included in the NYFF is a big achievement for Serbis. "AfterCannes and all the negative reviews, I feel vindicated...hindi ko pinagsisihan naginawa ko ang Serbis."
Apparently, Coco Martin is alsoproud of Serbis despite the fact that he initially felt that his frontalnudity in the film was a "breach of trust."
The young actor will join Direk Dante in attending the New York Film Festival as well as the Vladivostok Film Fest in Russia inSeptember.

Direk Dante has also been tapped to be one of the mentors in the Asian Film Academy in Pusan, South Korea.


Serbis, written by Armando "Bing" Lao, stars Gina Pareño, Jaclyn Jose, Julio Diaz, Coco Martin and Kristoffer King, and introdues Mercedes Cabral and Roxanne Jordan. The film was also screened in the Rome Asian Filmfest and Jerusalem Filmfest. It has been invited to film fests in Toronto, Vladivostok (competition category), Pusan, Rio de Janeiro, Thessaloniki and Vancouver, according to Ferdy Lapuz of Ignatius Films.


Direk Dante's Foster Child was screened last March in the New Directors/New Filmsseries at the Museum of Modern Arts (MoMA) which is co-presented by TheFilm Society of Lincoln Center, organizer of NYFF.