There is a clever maneuver of the thematic pieces in Paul Soriano's Dukot, that elicits an invitingly bizarre atmosphere.

This action-thriller delivers a complex set-up whose foreboding tone is enforced by a solid combination of drama and suspense. There are some smart restraints deployed to keep such tone consistent, keeping the thrill and suspense sustained throughout the 95-minute duration of the film.

While that choice is commendably wise for the most part, it prevents the film from reaching its full potential.

The film's emotional spine runs through the troubled affairs of the Sandoval family, whose lives suddenly get shattered when a criminal group kidnaps the family's only son, Carlo (Enrique Gil).

Considered the "black sheep" in the family, he sacrifices his freedom for the sake of his older sister Cathy (Shaina Magdayao).

Charlie Sandoval (Ricky Davao) is the patriarch whose questionable merit as a Customs official gets reeled into unwanted exposure as his family tries to solve their dreadful situation.

This whole set-up inspires several notions that further cultivates the complexity of the narrative, taking interesting turns without giving up its thematic pursuit that mostly involves addressing Carlo's kidnapping, and how his family deals with it.

The biggest emotional thrust is driven by Carlo, himself, whom Enrique Gil is able to get across, singularly. There is a recognizable power in his delivery, one that is of far greater strength than his previous roles in movies.

The film tackles socially relevant issues and sets its tone grim and grossly detailed. It's an intricate territory that the narrative repetitively visits while trying to dissect the film's primal conflict.

Whether the film is right or wrong to do so, isn't necessarily significant, as the film's bigger flaw emanates from the film's inability to deliver a sensible resolution.

Direk Paul Soriano is wise in keeping his piece bearing a mostly gloomy tone for most of its entirety, but his choices for the final moments of the film feel largely unwarranted.

The films drastically lurches forward, leaving most of its interesting expositions unresolved, just so it could arrive to a resolution that feels rushed and groundless.

For what it is lacking, Dukot is victorious in taking advantage of its actors' full artistic capacity.

Its powerful ensemble, led by veterans Ricky Davao and Christopher de Leon, delivers compelling performances, that are mostly more than enough to compensate for its unequally weaker narrative.

The two, for the most part, exhibit a sheer contrast as fathers, but the circumstance they got into, unites them in one fatherly principle: both will do anything for their respective families.

At one point, Christopher's character as the accomplice Manong Johnny starts to question if doing anything for his family, whether it is good or bad, is fine. He ponders on such thought at a time when both his own son, and Carlo—whom his group kidnapped—are placed in the same situation.

Both their sameness and differences imbue the flawed narrative with some humanity, providing a moral form to a script that struggles to handle its very own intricacy.

Shaina Magdayao, who plays Carlo's older sister, Cathy, shows the same commanding presence, being able to display the same level of horror and anxiety that comes in the wake of Carlo's abduction.

The criminal group headed by the characters of Ping and Alex Medina represents the most palpable threat in the narrative, with both brothers being able to deliver the terror required of their respective characters.

Despite its flaws, Dukot is a generally compelling film, its might primarily delivered by Odyssey Flores' impeccable cinematography, and by equally appropriate score that further intensifies the film's ominous rhythm.

While the film feels lacking and that it could have been better with a substantiated climax and a justified ending, Dukot is a rare film that still deserves commendation.

Based on true events, Dukot is graded B by the Cinema Evaluation Board.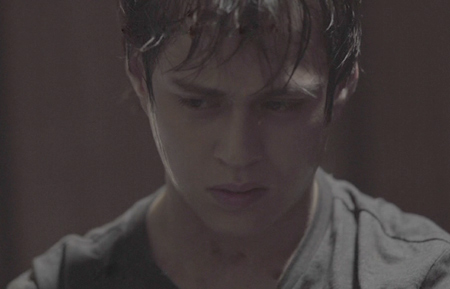 Ed's Note: The "PEP Review" section carries the views of individual reviewers, and does not necessarily reflect the views of the PEP editorial staff.