This is not the first time that a Philippine portrayal of a saint has been attempted onscreen. It has been hit-or-miss. Ignacio de Loyola is, in this humble writer's opinion, a hit.

UPDATE: This movie has been Graded A by the Cinema Evaluation Board.
Do you need to be a Jesuit or Atenean to appreciate the movie about the founder of the Society of Jesus? Definitely not. There are many ways to see this film: as one of conversion or struggle—but make no mistake, there are no halos or spotlights here.
Ignacio de Loyola starts with rolling thunder and strong reverb, and a dirty and highly emotional man standing at a precipice. Then, the narrative commences.
The film tackles the story of Inigo, born to a noble family in Loyola, who is challenged to gain acceptance from his father by becoming a knight. He goes from being a soldier to a wounded one, broken in spirit. He spends time reading Lives of the Saints and The Life of Christ, and decides to change his dream.
The story is not new—whether secular or religious—literature is replete with narratives of men and women who leave behind cushy, privileged lives in order to struggle toward more noble goals. Yet, the way the story is portrayed is most notable, especially considering the limited resources at the filmmakers' disposal.
It must be reiterated that this film is produced by Filipinos, particularly, by the Jesuit Communications Foundation, the media arm of the Philippine Jesuit Province and co-presented by the Jesuit Conference of Asia Pacific and One Meralco Foundation.
At the helm is Paolo Dy, who makes his feature film directing debut through this historical biopic. Direk Paolo also co-wrote the script with wife Cathy Azanza-Dy as well as Pol Saltarin, Ian Victoriano, and Fr. Emmanuel "Nono" Alfonso SJ.

The story is not completely linear, it includes flashbacks and even dreams or visions. But it is not hard to follow the narrative.

Direk Paolo, who embarks here on his full-length film directorial debut, is up to the task. He is able to pull together the cinematography, acting, musical scoring, art direction, editing, and notably, computer graphics.

The sword fights look realistic as do the battle scenes in a castle besieged by the French and fired upon by cannonballs.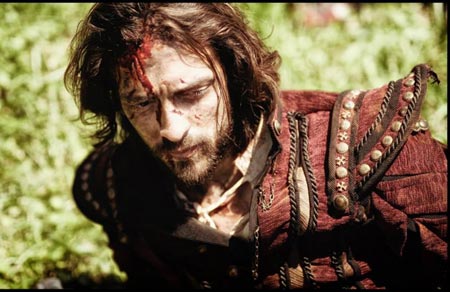 It would have been easy to go over the top with the action sequences, but Direk Paolo shows a temperance that has a pulse on what modern audiences expect, balancing it with authenticity to the times. His talent is highlighted even more by the thought that he had to work, for the most part, with foreign actors and Filipino crew, while shooting on location in Spain.
With his lean body and well-defined abs, it would be easy to dismiss the lead actor, Andreas Munoz as just another hunk. But Andreas shows excellent talent, especially in pivotal scenes when he is in anguish and one especially, when he comes face to face with his own humanity and sinfulness.

The Spanish actor is already a heartthrob among early followers of the film and it would not be a surprise if he gains more fans after the theatrical run—but he does not shy away from being bloodied, dirty, and even snot hanging from his nose. He is very convincing as a man anguished and always on the precipice or in the frontlines of war.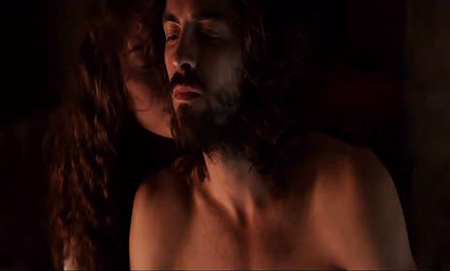 The supporting cast is composed of seasoned Spanish actors, including Pepe Ocio, Javier Godino, Isabel Garcia Lorca, Julio Perillan, and Lucas Fuica. A very touching scene is between Andreas and actress Marta Codina, who plays a prostitute named Ana.
Lee Briones-Meily's cinematography bears a good balance of light and shadow—bathing scenes of hope in glorious Spanish sunshine and scenes of gloom and doom with the absence of light when necessary.
The musical score by Maestro Ryan Cayabyab, supported by Gerard Salonga, is impeccable. It does not overpower the scenes but stirs emotions. The sound engineering by Mike Idioma also makes use of sound effects, especially during the scenes at the precipice, further enhance the acting.
The CGI weaves the story seamlessly—making a steep cliff look very scary and a group of a few look like crowds of soldiers and, in another scene, villagers.

The production design, art direction, and costume and hair & makeup design all set the scene for the period film.
But if you're not a Jesuit or Atenean, why would you care about the story of the founder of the Jesuit order? The story shows Inigo (he adapted the name Ignacio later) as a very well-defined character with various facets, overcoming odds and experiencing various emotions—all of them, very human and relatable.

And in these modern times, as a scene towards the end mentions, the world needs people who will live up to the duty and responsibility of the Catholic church to be a church militant—being relevant to the times and reaching out to the faithful.
Some of the dialogue, however, seems inappropriate for the 1500s, especially in their usage of terms that were most probably not yet in use at the time. It would also be a good idea to have a version either dubbed or with subtitles in Filipino, in order for this film to reach more audiences in its home country.
Ignacio de Loyola will be screened in Philippine cinemas starting July 27, 2016 at the following cinemas: Abreeza, Alabang Town Center, Ayala Cebu, Ayala Legaspi, Centrio, Century City Mall, Fairview Terraces, Festival Alabang, Gaisano Davao, Gateway, Glorietta 4, Greenhills, Harbor Point, KCC GenSan, KCC Zamboanga, Limketkai, Market! Market!, Marquee Mall, Newport Mall, Powerplant Mall, Robinsons Bacolod, Robinsons Calasiao, Robinsons Cebu, Robinsons Ermita, Robinsons Galleria, Robinsons Iloilo, Robinsons Metro East, Screenville Island City Mall, Shang Cineplex, SM Bacolod, SM Bacoor, SM Cagayan de Oro, SM Cebu, SM Cebu Seaside, SM Davao, SM Davao Lanang, SM Fairview, SM Iloilo, SM Manila, SM Marikina, SM Megamall, SM Naga, SM North EDSA, SM San Lazaro, SM Southmall, SM Sta. Mesa, Solenad, Sta. Lucia, Trinoma, and Uptown Bonifacio.