Excitement sparked for KathNiel fans as the teaser of Kathryn Bernardo and Daniel Padilla's upcoming movie Barcelona: A Love Untold was finally released last night, August 2.
This teaser was first seen by some moviegoers during the premiere night of the Bea Alonzo-Gerald Anderson movie How To Be Yours.


Read: What can be seen in teaser of Kathryn Bernardo-Daniel Padilla movie Barcelona: A Love Untold?

Some noticed that the KathNiel love team is already veering away from their usual teeny-bopper roles and showing their more mature side.
As posted in Star Cinema's Facebook page, the movie revolves around Ely (Daniel) and Mia (Kathryn) who are both living in Barcelona, Spain. Here is the synopsis of the film that is helmed by veteran director Olivia M. Lamasan:

Ely, a young man studying in Barcelona, is finding it difficult to move on from his past. In Barcelona, he juggles his work with his studies, as he aims to get his masters degree.

Mia, on the other hand, is a girl who sees Spain as a fresh start. After a series of mistakes in the past, she abruptly uprooted herself from her life in Philippines to move forward and start anew. But the question is "how?"

Together, they will journey to find the answers to their life-long questions, such as proving their worth, confronting the past, finding their way, and self-forgiveness.

With a strong voice of today's youth, this romantic movie will show two people who will embark on a colorful journey as individuals and as partners in the beautiful country of Spain.


Here are 5 observations from the teaser of Barcelona: A Love Untold.


1. Kathryn Bernardo shows her sophisticated side while Daniel Padilla goes for a clean but manly look.
It seems like Kathryn and Daniel's characters are both fond of white outfits as they are seen wearing that color in the opening scene of the teaser.
It can also be noticed that their outfits have also shown maturity: Kathryn wears high-heeled shoes, dangling earrings, flowy blouses and jumpsuits. She also sports curly, blonde hair.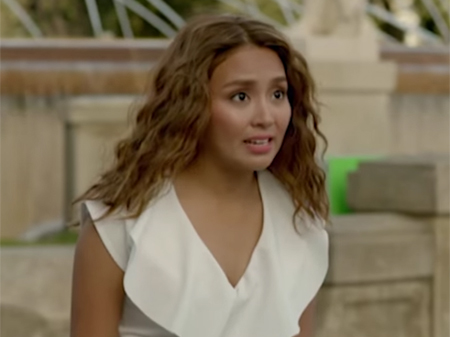 On the other hand, Daniel still has his brushed-up hairstyle that made him looked more mature. He also wears simple but very manly outfits such as long-sleeved button downs and in one of the crucial scenes, a casual white shirt.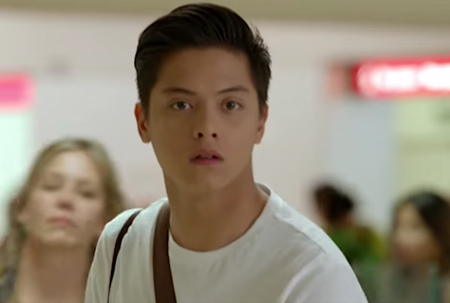 Did he pass the white shirt test, ladies?


2. The movie boasts picturesque settings in Barcelona, Spain.
Just bringing KathNiel together is enough to bring kilig to fans.
But isn't it more exciting when it happens as lights and colors change at the Barcelona Magic Fountain of Montjuc?
How about seeing Daniel and Kathryn walk the streets surrounding the famous church of Sagrada Familia?


3. No cheesy scenes are seen in the teaser.

This teaser sets up the new Kathryn and Daniel movie as a romantic drama.
One proof is when Daniel's Ely has his earphones on and seems to be deep in thought.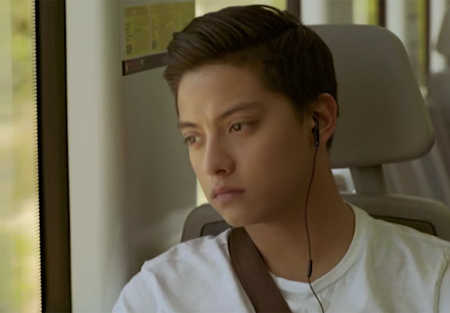 Suddenly, he runs after Kathryn's Mia and calls her the name Celine, but Mia said that she is not the girl he is looking for.


4. The movie promises a number of hugot lines.
Though not many lines were delivered in the teaser, KathNiel's last exchange left an impact on most viewers.
In the last part of the teaser, Ely told her, "Mahal kita, Mia."
However, Mia's answer came as a shock. "You don't have to."
The title Barcelona: A Love Untold then appears on the screen, evoking more excitement and curiosity from those who are waiting for the movie!


5. KathNiel show they are ready to take on more mature roles in the movie.
Not necessarily love scenes, but the love team has truly moved on from playing teeny-bopper, "pakilig" characters. No more pinching of the face, simple holding hands, or other usual meet-cute scenes were shown in the teaser.
In the last scene, Ely's eyes are full of love while he caresses Mia's face but she seems to be filled with hesitation.


Now this question pops up: Will the first kissing scene of KathNiel finally happen in this movie?
That can only be known once this movie starts showing in cinemas soon, as no announcements have been made yet for the playdate of Barcelona: A Love Untold.