Watch Pamilya Ordinaryo and you'll think as if you're watching a documentary. You might think that they are actual rugby-sniffing street dwellers being their ordinary selves on the big screen and not being portrayed by actors. It helped that Ronwaldo Martin (as Aries) and Hasmine Killip (as Jane) are 100% believable as a poverty-stricken homeless couple taking care of their infant son while struggling to survive on the streets of Manila.
Ronwaldo and Hasmine are convincing as troubled teens toughened by mainstream society's apathy towards their state. As poor, young and vulnerable Aries and Jane, they are easy bait to the scrupulous and corrupt. To fight back, the teenage parents take a stand in the only way they know how: they steal and sell cell phones for a living. But when their baby Arjan is stolen from them, the already harsh world they're living in becomes harsher, even more cruel, and even more apathetic.
It's Jane and Aries versus forces too big for their youth and poverty to defeat. Who will win?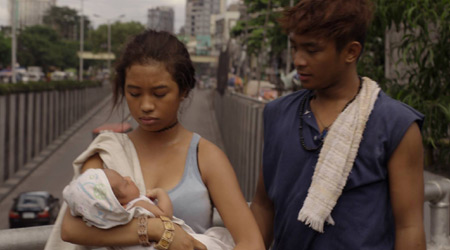 Written and directed by Eduardo Roy, Jr., Pamilya Ordinaryo offers an up close and personal view of how it is to be young, poor and exploited in Manila – a sadly ordinary occurrence in the Philippines. Sheltered audiences are given an authentic glimpse of how life is for children and teens living on the streets.
In social media, the film has been described as "poverty porn." According to Wikipedia, poverty porn is any type of media that exploits the poor's condition to generate sympathy. But tossing aside claims about being poverty porn, Director Eduardo Roy's Pamilya Ordinaryo is structured to not only show the existing inequality between the can-affords and those who can't, it also brings to light our own apathy towards the latter.
The movie depicts intricate details of a day-in-the-life of Jane and Aries, making it difficult for audiences to dismiss them--and their real life versions plying the streets of Manila--as merely thieves and the good-for-nothing of society. Despite the characters' wrong and impulsive life choices, director Eduardo Roy made it possible for us audiences to root for them.
Ronwaldo is memorable as Aries. He swears and spouts expletives just like a street urchin. He has no qualms wearing just briefs and having sex with his partner with nothing more than cardboard boxes to separate them from the cold pavement. Ron's extraordinary acting skill proves he can stand on his own and step out of the shadow of his older brother Coco Martin.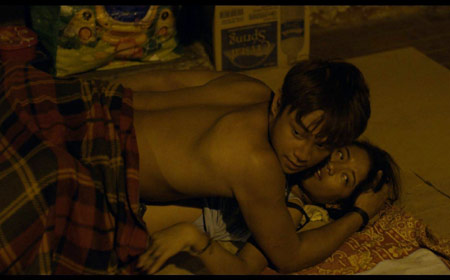 Hasmine is affecting as a young mother desperately searching for her lost child while also trying to fight off monsters dressed in police uniform. She is just as daring as her partner as she bares her breasts in one scene of this Cinemalaya 2016 entry.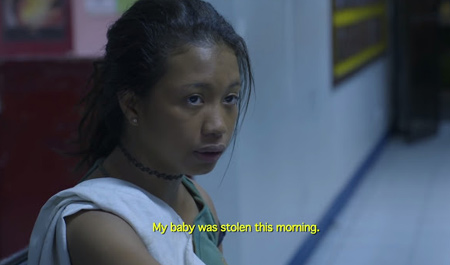 There are some stilted and contrived dialogue spoken by the characters of Ronwaldo, Hasmine and Maria Isabel Lopez (who plays the mother of Hasmine in the movie). Still, the film manages to remain compelling and tight.
If you watch Pamilya Ordinaryo, you will be witness to the life and interaction of vagrants in the city – scenes you can easily see and hear when you walk through Leveriza, Quiapo, or any other side street of Manila. But sit through the movie and you will wonder why you didn't care for them in the first place. After the movie is over, you will also realize that maybe it's not too late to start caring for them now.

Pamilya Ordinaryo is one of nine full-length entries competing in the 12th edition of the Cinemalaya Philippine Independent Film Festival that will run from August 5-14, 2016.

(To learn more about this year's entries, read: Cinemalaya 2016 loses one entry; Nora Aunor, Judy Ann Santos among stars featured in 12th edition)



Ed's Note: The "PEP Review" section carries the views of individual reviewers, and does not necessarily reflect the views of the PEP editorial staff.