That Thing Called Tanga Na, topbilled by gay characters, reflects different faces of the LGBT (lesbian, gay, bisexual, and transgender) community in the Philippines.

Eric Quizon (Papa Tsu), Martin Escudero (Georgette), Kean Cipriano (CC), and Billy Crawford (Baldo) represent different kinds of gays at different stations in life and different stages of being "out." Angeline Quinto plays Shirley, the assistant of a fashion designer played by Kean Cipriano.
It gives the impression that it will be gritty and biting—maybe even a local Sex and the City. It has elements that it could be after all: a once-married but aging rich gay man who has a much younger boyfriend (Eric Quizon), a pre-operation cross-dresser who dreams of having his own family but also has to financially support his boyfriend's wife and children (Martin Escudero), a successful fashion designer who has a model boyfriend (Kean Cipriano), and a committed security guard who cannot come "out" because he is burdened by the expectations of society (Billy Crawford).
Yet the movie employs formulaic Philippine comedy staples such as physical comedy, sexual innuendos, and jokes that are too obvious—yes, this comedy is good for a lot of laughs, but almost to the point of overkill, where all possible jokes are made, even tired ones.
Director Joel Lamangan succeeds in taking this comedy beyond the punchlines and the funny situations. It shines most when it discusses the many facets of the LGBT community.


THOUGHTFUL STORYTELLING. There are vignettes of short interviews with real life gay couples including actors Aiza Seguerra and Liza Dino, directors Perci Intalan and Jun Lana, and beauty titlist Francine Garcia and boyfriend Franz Kevin Saraspi. In some segments, their insertion seems unrelated to the storyline, but in most parts, the interviews talk about the themes portrayed in the movie, including gay marriage, adoption, and authentic feelings.
The characterization is thoughtful. Though some of the characters are in common industries such as fashion and beauty, there is Baldo, who is a security guard—showing that indeed, there are many members of the LGBT community in different sectors of society. The characters of Papa Tsu and Baldo, though both start out as reluctant to admit that they are gay, bust the myth that all gays necessarily cross-dress.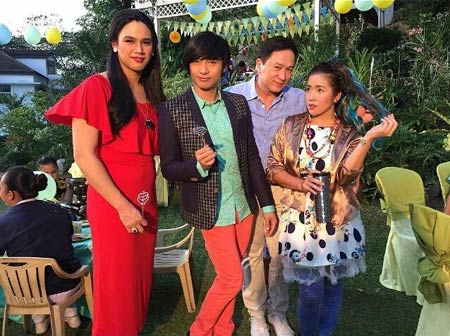 (L-R) Martin Escudero, Kean Cipriano, Eric Quizon and Angeline Quinto.



LEAD ACTORS. Billy Crawford has the most tender and genuine scenes, providing moments of introspection in the otherwise laugh-a-minute film. It is a welcome softening in his features behind his bearded face.

Eric Quizon also essays the role of aging gay with grace. His anguish at the thought of losing his boyfriend feels so real. Martin Escudero and Kean Cipriano are beautiful and graceful—Martin's coy smile and Kean's naughty pout appear often and are used to full advantage.

Angeline Quinto toes the line between a laughable personality and having a certain pain just beneath the surface. She is on her way to emulating Maricel Soriano in her John en Marsha and Inday Bote days.
Luke Conde as George and Nikka Valdez as Glenda figure in the storyline of Georgette—who is willing to share and to some extent, be a sponsor of the children of the couple. Albie Casino is Russell, Papa Tsu's smooth-talking and ambitious boyfriend. Ken Alfonso is Charles, CC's seemingly reluctant model-boyfriend. Paolo Gumabao is Bryan, Baldo's boyfriend whom he has to keep a secret for fear of judgment. Shine Kuk as Carol is cute and amusing, and touches on the Filipino fixation on Koreans. Lawrence Yap is Huge, Angeline's husband and baby-daddy.
Jerald Napoles also appears in the movie in the storyline about Papa Tsu and Russ. He gives a singular performance that does not fall into the trap of clich and thus, avoids being relegated to the background as just another screaming gay. Vangie Labalan is hilarious as Bryan's mother. She is graceful in her comedic moments and almost heartbreaking in her dramatic ones.



SALUTE TO POPULAR FILIPINO FILMS. Intertextuality is employed as lines, titles, scenes, and posters from classic (not necessarily so old, but well-known) Philippine movies find their way into the movie.

This is primarily in scenes involving Papa Tsu, but also creeps into the other characters' dialogues. Papa Tsu is a local film buff and has a shrine to the great Filipino actresses: Nora Aunor, Vilma Santos, and Sharon Cuneta. His walls are also adorned with movie posters of Inday Bote, Atsay, Yesterday, Today, and Tomorrow, Pasan Ko Ang Daigdig, and Bituing Walang Ningning.

There is a touching scene where he watches a movie scene involving the late great Dolphy and a young Vandolph—Eric Quizon's real life father and brother. There is also a powerful scene that could be taken as contemporary social commentary, when he watches a scene from the Mike De Leon classic Sister Stella L, when she says: "Kung hindi tayo kikilos, sinung kikilos? Kung hindi ngayon, kelan pa?"
The movie also touches that nerve of the Philippine gay community's adulation for beauty queens and commitment to beauty pageants.

Shirley puts it best when she says that for that one day (of the Miss Universe pageant), gays are focused not on a man but on a woman—particularly, in the hope that a contestant from the Philippines once again wins the crown.

The story traces their five-year friendship, punctuated by viewings of recent Miss Universe pageants—live via satellite. Featuring footage from Pia Wurtzbach's 2015 win, gays—along with Filipinos everywhere—celebrate this historic win.