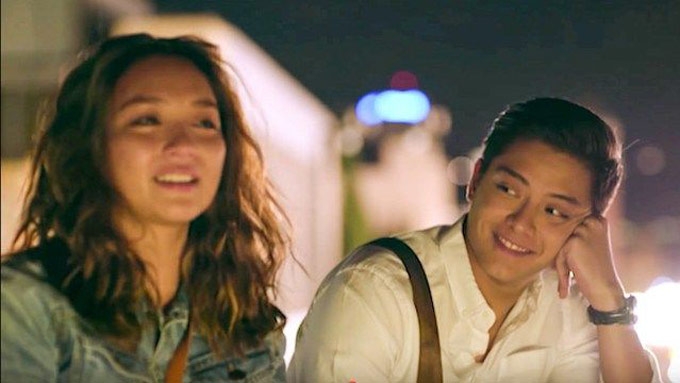 ---

Barcelona: A Love Untold gathers its sentimental pieces right at the very first few minutes of this Olivia Lamasan film.

It begins with architecture student Ely (Daniel Padilla) recollecting his memories of his love interest, Celine, through the videos saved on his Facebook account. His first encounter with Kathryn Bernardo's Mia is made quick. He develops a straight-away connection with the stranger, whose striking resemblance to Celine made him run after her.

Through a series of cautious investigative stalks, Ely finds out that Mia has been evicted from her place and facing a serious situation in Spain. He takes her to his Aunt Insiang's (Aiko Melendez) place, and helps Mia find a stable job.

As their story progresses, Ely and Mia begin to delve into each other's lives. We learn that Mia has been in Barcelona trying to pull herself together, after making a scandalous mistake back in the Philippines that earned the anger of her father.

Through an earnest effort to meet Ely's requirements, she also learns about Celine's story and how her memory has influenced the brokenhearted young man to remain in Barcelona.

Through the mixed threads of sedate and comic proceedings shared by the two, moviegoers get introduced to a familiar story that blooms with its characters' joys and heartaches.

The narrative thrives through this familiarity. The use of its conventional anthem is able to muster affectionate emotions, elicting sentiments that will strike a chord among audiences.

Kathryn Bernado is brilliant and (surprisingly for me) commanding as the ambitious, but easily discouraged Mia. She owns her every moment, throwing her every line with power, every fall of tear warranted. There are eloquent impressions in her quiet moments where she shines even more in delivering heartrending lines.

Daniel Padilla has an equally persuasive depiction with his restrained Ely, a character who possesses compelling dignity, particularly in moments where he reproves Mia for being weak and dispirited. His confrontation scene with Maria Isabel Lopez, who played his mother in the film, allowed him to display a new facade of his artistic capacity.

Carmi Raymundo's script is simple and impeccably well-written although it has a tendency to be too broad as it tackles too many issues.

Its virtue largely rests on its endearing honesty about two broken people trying to save their lives from the ruins of their respective disasters.

The straightforward treatment of the script allowed Daniel and Kathryn become even more adequately capable in delivering the narrative's most crucial moments, turning the scenes they both share into segments that will make Kathniel fans scream in laughter and kilig.

These crucial moments also mark a turning point in the career of both stars as they finally veer away from their teenybopper images. In Barcelona, they have more sophisticated roles that allow them to transform into the mature actors they both need to become.

Showcasing the breathtaking beauty of the historic city of Barcelona, the film can impress moviegoers with its sweeping cinematography. Direk Olivia Lamasan maximized this indispensable asset and it is evident in scenes where the exquisite landscapes of the Catalan city were utilized to make the magic of the moments shared by Daniel and Kathryn much more effective.

Still falling into the pitfalls of Star Cinema cliches, Barcelona: A Love Untold becomes a film of blemished beauty, but that is fine.

If anything, these flaws make the film even more affecting and tangible, letting the unscarred portions of the narrative shine amid the film's structural shortcomings.

It highlights notions about family and its enduring facility for forgiveness.

The film deliberately unfolds the romance of Ely and Mia, while letting their familial struggles grow with them, until it becomes the most significant element to bind them together.

More than just a Kathniel romantic movie, Barcelona: A Love Untold is an honest piece about family and relationships.

It is a study on our capacity to look past our mistakes and imperfections, and of our perpetual ability to move on, to forgive, and to create spaces in our lives for those who want to love us, even those whom we have already let go.

The Star Cinema movie Barcelona: A Love Untold is graded B by the Cinema Evaluation Board.


(To view photos from the premiere, click: Kathryn and Daniel hug at Barcelona premiere; fans go wild over crucial scene)


Ed's Note: The "PEP Review" section carries the views of individual reviewers, and does not necessarily reflect the views of the PEP editorial staff.






ADVERTISEMENT - CONTINUE READING BELOW