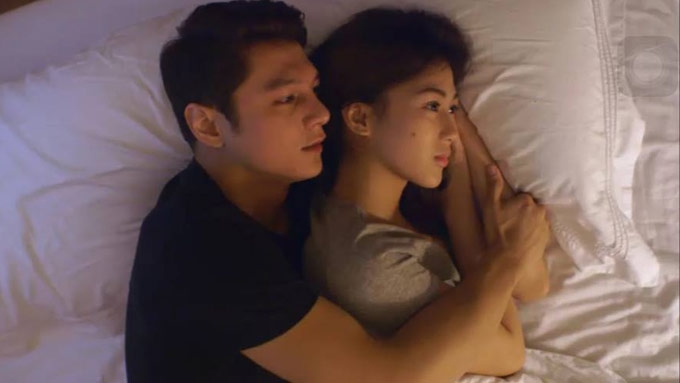 ---

My Rebound Girl could have been every heartbroken person's dream film. It digs a similar ground on the limited territory of the rom-com genre, and while it delivers some fascinating notions about love and relationships, it doesn't quite fulfill the requirements of its very own ambitions.

The film revolves around Rocky (Alex Gonzaga), a girl whose streak of failed relationships finally made her decide she won't be heartbroken again. While she is trying to open a coffee shop with the perfect blend, moviegoers get to see Rocky's desperate efforts to abide by the list of rules she created, to keep herself from once again making the same relationship mistakes.

However, it proves to be futile as Joseph Marco's Rich enters the picture. Also trying to recover from a similar heartache, Rich is exactly the guy that Rocky's rule book dictates her not to get close to.

Rocky isn't the girl Rich wants to be with, either, but when he becomes the new business partner of the coffee shop that Rocky partly-owns, things becomes complicated.

Despite their misgivings about each other, Rocky and Rich inevitably fall for each other, and their unlikely romance begins to unfold.

Much of this film is confusing. At some point it bares strikingly relatable anthems, only to completely abandon them at the next--that, or it just couldn't quite deliver a satisfying resolution.

A big portion of its narrative seems to be more invested in making the audience dislike the characters than making their plights relatable, regardless of their character flaws. It doesn't feel exerting an effort to make these characters worthy of viewer's affections because all it does is make them appear as horrible as they can be.

Rocky is mean and bossy, and she's often loud and inconsiderate. The narrative practically paints her a totally unlikable character, which us fine if there's a backstory or tangible justification for her behavior--but the film fails to deliver.

Rich, who has just been through a painful breakup, is on the brink of losing his family's coffee farm. He tries to save it by taking on fraudulent deals. The script tries to salvage his character by granting him some sense of conscience but ironically, Rich is devoid of character development, depriving him with the capacity to evolve into someone we could understand.

Be that as it may, there's a portion of the film that aims to rouse emotional sentiments, but unfortunately, the narrative itself struggles to get it across.

In the end, the film stumbles to earn the affection it yearns from viewers. The characters are poorly-written and uninspired and the actors playing them aren't completely committed or even suited for them. There is a comic effort that doesn't quite deserve the chuckle, and that's amidst Alex Gonzaga's quirky attempt to be cute and cool, at the same time.

For the most part, Alex Gonzaga and Joseph Marco fail to conjure the chemistry their characters requires them to create, and their characters' stories are wanting for development and justified resolution.

My Rebound Girl offers nothing new, and that's not necessarily bad. While the film has an earnest motive, it lacks the capacity to carry out its noble intent. This is a film that knows it needs to be good and tries to be, but it struggles to be at least tolerable.


Ed's Note: The 'PEP Review' section carries the views of individual reviewers, and does not necessarily reflect the views of the PEP editorial team.


ADVERTISEMENT - CONTINUE READING BELOW