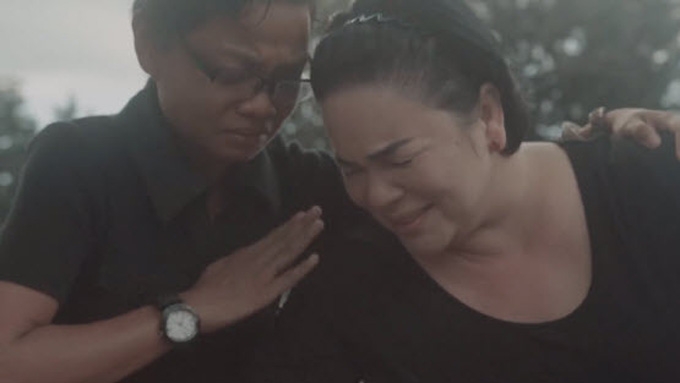 ---

Some grudges are meant to die with the persons that caused them. This is what Victor Villanueva's Patay na si Hesus tells us as we are introduced to a highly dysfucntional family coming to terms with the death of their estranged patriarch.

When Iyay (Jaclyn Jose), a single mother making a living as a food vendor, learns of her husband's death, she forcibly drags her three children to Dumaguete to attend the funeral.

With her are Hubert (Vincent Viado) who has Down Syndrome; Jude (Chai Fonacier), a lesbian in a troubled relationship; and Jay (Melde Montanez), a jobless graduate who failed the board exams several times. Joining them in the long journey are their eccentric aunt, the daughter of Jude's partner and their toy dog Hudas.

The long journey from Cebu to Dumaguete served as a family reunion of sort in which the odd bunch rehash their issues with their deceased father, thresh out their personal problems and encounter misadventures along the way.

Like most road movies, the journey is often more important than the destination. Along the way, they fight and make up, sometimes having  crucial realizations about their situations and sometimes getting more disraught than they already are.

Patay na si Hesus is a wildly entertaining romp into the dark side of fatherly hate amplified by the incredible connection between Jose and the rest of her brood, a mirror of a true blue love-hate relationship found within a family.

Jaclyn's trademark deadpan expression of sadness and frustration was put to good use as the dutiful but conflicted wife. Chai Fonacier, known for other feminine roles, portrayed a jilted lesbian lover with charming candour; together with Melde Montanez, they create a convincing brotherly love and hate relationship.

The film adds touches of magical realism and exaggerations that have no direct relation to the main plot for comical effect. While charming, these do not serve to move the story forward. At times, such images annoy more than entertain as these waste valuable screen time.

Several incidents like the one where Hubert becomes lost, or when their crazy nun aunt runs off with a random man, also do not contribute to the overall theme and direction of the story.

Patay na si Hesus could have carried greater weight had it been leaner and stripped of excesses. Death in the family is already enough to give rise to drama and inspire temporary insanity within the family.

But ultimately, the film works as a thesis on forgiveness and acceptance that after the emotional wounds have healed, life goes on and will throw you more surprises.

When Iyay looks down on her late husband's coffin, she heaves a sigh of relief but her mouth twitches as the feelings boil inside of her. She can create a scene or she can walk away.

Patay na si Hesus claimed two awards—Audience Choice and the Gender Sensitive Film Awards—during the 2016 QCinema International Film Festival.



Ed's Note: The "PEP Review" section carries the views of individual reviewers, and does not necessarily reflect the views of the PEP editorial staff.




ADVERTISEMENT - CONTINUE READING BELOW