The Filipino film Die Beautiful earned the Audience Award at the 29th Tokyo International Film Fest.
Paolo Ballesteros plays a transwoman named Trisha in this movie directed by Jun Robles Lana.
Here is the synopsis of Die Beautiful published in the official website of Tokyo IFF:
"Trisha, a transgender woman who makes a living as a beauty contestant, dies unexpectedly. Before she died, her one last wish was to remain beautiful even in death. This moving work, filled with laughs, is the latest effort by Jun Robles Lana.
"Trisha, a Filipino transgender woman, suddenly dies while being crowned in a beauty pageant. Her last wish was to be presented as a different celebrity on each night of her wake, but her conservative father wants to bury her as a man.

"Trisha's friends are left with no choice but to steal her body and hold the wake in a secret location. And as Trisha is transformed to look like different celebrities, they also look back at the colorful and extraordinary life that she has led - being a son, a sister, a mother, a friend, a lover, a wife, and ultimately, a queen."
A report posted on the Tokyo IFF official website also commends the Pinoy director since he "frequently injects joyful charm into his films through the presence of a powerfully captivating leading role."
The lead star Paolo Ballesteros is also described as an "exquisite newcomer" who offered "a dynamite performance."
Members of the international press asked Paolo: "If you are chosen for a TIFF acting prize, should it be for Best Actor or Best Actress?" The Eat Bulaga host was quoted as saying: "Well, both!"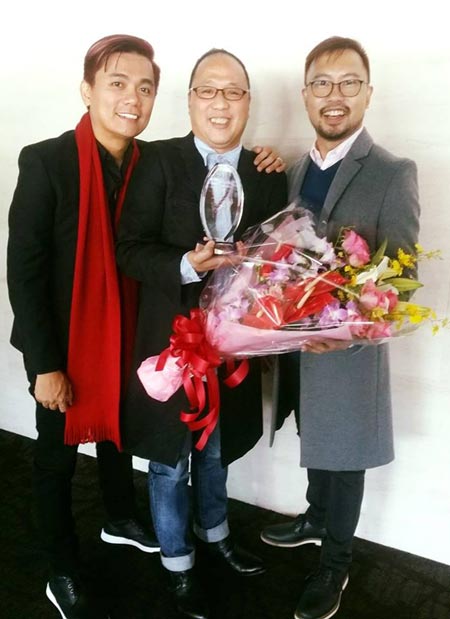 IMAGE Ferdy Lapuz


(L-R) Die Beautiful director Jun Lana, producers Ferdy Lapuz, and Perci Intalan accepted the Audience Award in Tokyo, Japan