Hashtags member Jameson Blake did a sensitive scene in the Cinema One Originals 2016 entry 2 Cool 2 Be Forgotten, which also features Khalil Ramos and Ethan Salvador.
Jameson's character Maxim had a masturbation scene where he took off all his clothes in front of Khalil's character Felix.
In an interview with PEP.ph (Philippine Entertainment Portal) after the November 18 gala night of 2 Cool 2 Be Forgotten in TriNoma, Jameson admitted he had second thoughts about doing the scene.
The 19-year-old actor said, "Unang-una siyempre, naisip ko na bakit ganito yung scene, why do I have to do it, what's the purpose.
"So si Direk [Petersen Vargas], he told me the reason to do it.
"Yeah, I had thought twice about it, but I tried how to figure it out properly and stuff.
"It was hard for me actually, it was my hardest scene. It's kind of a struggle, but then I managed to pull it off, and that's what matters."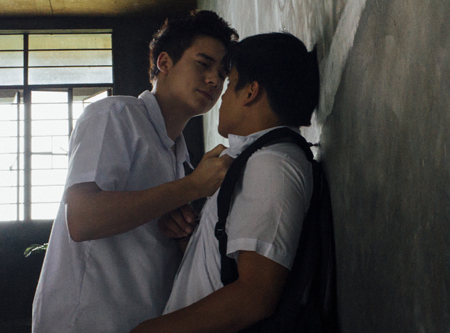 One of the entries in the Narrative Feature Category of Cinema One Originals, 2 Cool 2 Be 4gotten serves as Jameson's debut movie.
Thus, there was pressure for him to think about how to give life to his role as Maxim, the younger brother of Magnus (Ethan Salvador).
He recalled, "I just have to keep thinking about it. When I'm on the set, I can do it.
"But when I'm off the set, I start to think a lot about it, over-think, I just want to get it done.
"I pulled it off naman and it was all good. I was anxious at people looking at me.
"It's my first time seeing my face on the big screen and it feels different.
"I learned a lot and I enjoyed the movie actually, but there are some thoughts in my head [saying] that I could've done better, but I enjoyed it."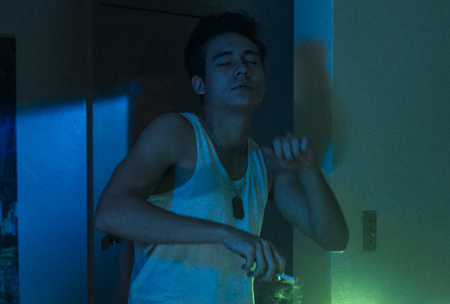 2 Cool 2 Be 4gotten and other Cinema One Originals' entries are being screened until November 22, 2016. Screenings are in Trinoma, Glorietta, Gateway, Greenhills, and Cinematheque in Kalaw, Manila.
HASHTAGS SUPPORT JAMESON. Jameson is happy that his fellow members in the boy group Hashtags supported his first movie-acting venture.
Indeed, Hashtags boys Luke Conde, Tom Doromal, Jimboy Martin, and Paulo Angeles were present during the screening.
Although Hashtags' Jon Lucas was unable to attend the screening, he posted a good-luck message for Jameson in his Instagram account.
He wrote, "For sure pagsisisihan ko tong hindi pagpunta sa Premiere night ng 1st movie mo!
"pero sinabi ko na sayo yung reason ko.. and alam mo rin na proud ako sayo! Ngayon palang congratulations sayo, and naniniwala ako na sobrang malayo mararating mo, Pampanga to Las pias.. joke!
"Yung picture na yan magpapatunay na para na kitang kapatid talaga na kailangan pang subuan at pagsabihan sa tigas ng ulo mo minsan. Haha.
"1st time ko magpost ng ganto siraulo ka! Nakakahiya! Anyways, CONGRATS AND GOODLUCK!"
Jameson said about this, "Actually all of us, we support each other.
"Mga premiere nights nila, if they have movies, I go there to support them.
"I appreciate that they came here to support me as well even though like Jon he couldn't come but I'm close with Jon and I was touched by his message on Instagram.
"And Paulo, Tom, Luke, and Jimboy, they came here to support me and I really appreciate it. They have time to support me."
(To know more about 2 Cool 2 Be 4gotten, READ: Khalil Ramos on his gay-themed movie: "May sexual tension.")