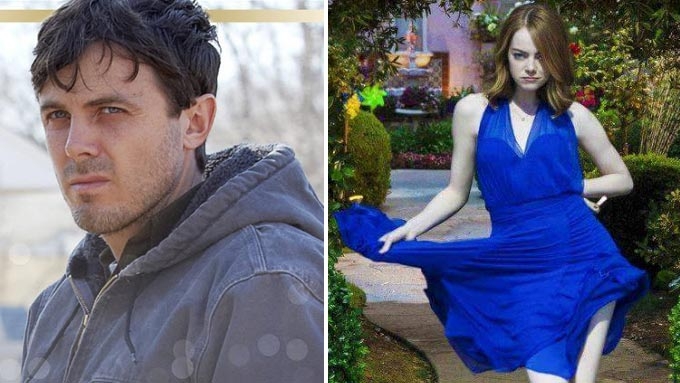 ---

In a move reminscent of Steve Harvey's epic mistake in Miss Universe, the wrong winner was announced in the 2017 Academy Awards.

Warren Beatty and Faye Dunaway were tasked to present the Best Picture award in the 89th Academy Awards.

They announced that the Oscar went to La La Land and the producers and the cast members already went up the stage to accept the coveted trophy.

However, it turned out that the stars of 1967 classic film Bonnie and Clyde were mistaken. The real winner of Best Picture was actually Moonlight.

The producer of La La Land acknowledged the mistake and motioned for the representatives of Moonlight to come up the stage.

"This is not a joke. I'm afraid they read the wrong thing."

Oscars host Jimmy Kimmel joked, "This is very unfortunate what happened. I personally blame Steve Harvey for this."

Warren explained, "I want to tell you what happened. I opened the envelope and it said Emma Stone La La Land. That's why I took such a long look at Faye and at you.

"I wasn't trying to be funny.

"This is Moonlight, the Best Picture."



ADVERTISEMENT - CONTINUE READING BELOW
Warren Beatty makes mistake, #Moonlight wins best picture. #Oscars pic.twitter.com/zRZlTTeD2l

— Variety (@Variety) February 27, 2017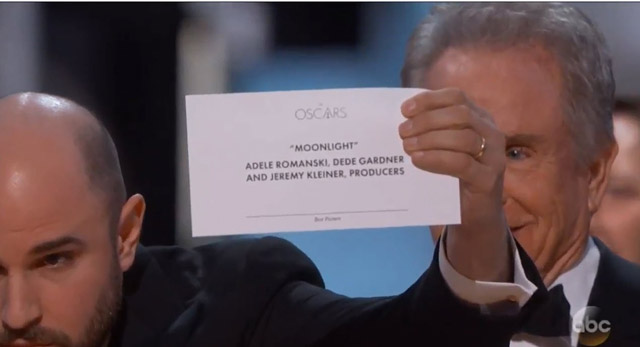 DONALD TRUMP REFERENCES. "I want to thank Donald Trump. Remember last year when it seemed like the Oscars were racist? That's gone, thanks to him."

This was just one way that Oscars host Jimmy Kimmel poked fun at United States President Donald Trump during his opening monologue at the 89th Academy Awards.

Kimmel kept the laughs coming in during the awarding ceremony held earlier at the Dolby Theatre in Hollywood.  

"This broadcast is being watched by millions of Americans and--around the world--225 countries that now hate us, and I think that is an amazing thing," quipped Kimmel who hosted the Oscars for the first time.

The American comedian acknowleged that: "We have the great actress from France, Isabelle Huppert, here with us.

He praised her performance that earned for her a nomination in the Best Actress category.

"You were amazing in that film and I'm glad Homeland Security let you in tonight," Kimmel said to Isabelle Huppert, a French actress nominated for her role in Elle."

"I am so glad Homeland Security let you in," he quipped as he referenced Trump's order banning people from seven Muslim-majority countries.

Kimmel also made fun of Trump's penchant to post on his Twitter account:

"We're at the Oscars...Some of you will give a speech that the President of the United States will tweet about--in all caps--during his 5 a.m. bowel movement tomorrow."

Mexican actor Gael Garcia Bernal also criticized Trump who had proposed to set up a wall in the border between the United States and Mexico.  

"As a Mexican, as a Latin American, as a migrant worker, as a human being, I am against any form of wall that wants to separate us," said the star of Mozart in the Jungle when he presented the award for Best Animated Feature.

Even the absence of a director became a political statement.

Asghar Farhadi, the Iranian director of The Salesman, previously announced that he would boycott the Oscars over Trump's immigration ban from seven predominantly Muslim countries.

Farhadi's representative read his statement:

"My absence is out of respect for the people of my country and those of the other six nations who have been disrespected by the inhumane law that bans entry of immigrants to the U.S.

"Dividing the world into 'us' and 'our enemies' categories creates fear, a deceitful justification for aggression and war."


Here are the winners of the 89th Academy Awards:

Picture: Moonlight

Actor: Casey Affleck, Manchester by the Sea

Actress: Emma Stone, La La Land

Supporting Actor: Mahershala Ali, Moonlight

Supporting Actress: Viola Davis, Fences

Director: Damien Chazelle, La La Land

Adapted Screenplay: Moonlight

Original Screenplay: Manchester by the Sea

Cinematography: La La Land

Costume Design: Fantastic Beasts and Where to Find Them

Animated Feature: Zootopia

Costume Design: Fantastic Beasts and Where to Find Them

Documentary Feature: O.J.: Made in America

Documentary Short: The White Helmets

Film Editing: Hacksaw Ridge

Foreign Language Film: The Salesman

Makeup and Hairstyling: Suicide Squad

Production Design: La La Land

Animated Short: Piper

Sound Editing: Arrival

Sound Mixing: Hacksaw Ridge

Visual Effects: The Jungle Book




ADVERTISEMENT - CONTINUE READING BELOW
My opening monologue from the 89th #Oscars... @TheAcademy @ABCNetwork pic.twitter.com/rXNU8aZfcd

— Jimmy Kimmel (@jimmykimmel) February 27, 2017
---
Stories We Are Tracking
---