Vic Sotto veers away from the fantasy genre in his return to the Metro Manila Film Festival after a year of absence.
The actor and co-producer of past MMFF top-grossing entries, such as the Okey Ka Fairy Ko franchise, opts for a feel-good family movie that melds his tried and tested jokes with new and surprising twists.
In Meant To Beh, Vic's character, Ron Balatbat, is a jologs car wash manager married to a sosyal magazine editor named Andrea (Dawn Zulueta).
Ron and Andrea belatedly realize that they have nothing in common except having their three children: nerdy Christian (JC Santos), tomboyish Alex (Gabbi Garcia), and mischievous Riley (Baeby Baste).
The couple find new romantic interests: Ron to his similarly "down-to-earth" Agatha (Andrea Torres) and Andrea to hunky model Benjo (Daniel Matsunaga).
They then decide to separate, and that's when their kids plot their reconciliation to have the regulation happy ending.
THE GOOD.
Director Chris Martinez (Here Comes the Bride, Kimmy Dora: Ang Kiyemeng Prequel) succeeds in updating a classic Vic Sotto movie.
That's why Meant To Beh feels current and relevant—something that the millennial generation can relate to and appreciate.
There is no evil kontravida and everybody gets along well.
There are only creative ways to resolve the story's conflict and sub-plots.
When Ron and Andrea find themselves hanging out in a bar with their respective dates and friends, they end up having fun and getting their videos uploaded on social media.
Their eldest child Christian finds out about it, and complains that his parents are way cooler than him.
Christian, who's refined like Mommy Andrea, is smitten with a pretty schoolmate (Sue Ramirez).
But he's too shy to approach her, so he uses a fake social media account to be able to chat with her.
Alex, who takes after Tatay Ron, has a cute admirer (Ruru Madrid).
But she's too tough to admit that she likes him, too, so she is masungit to him.
And the bunso, Riley, has his adorable and funny moments, which Baeby Baste ably delivers in his first ever movie. He even won the Best Child Performer Award in MMFF 2017 for his performance.
Also noteworthy are the dream sequences, one of which is inspired by the confrontation scenes of Emma and Georgia in GMA-7's teleserye Ika-6 na Utos.

Fans of Alden Richards and Maine Mendoza will also get a kick over the way their characters cross paths in Meant To Beh.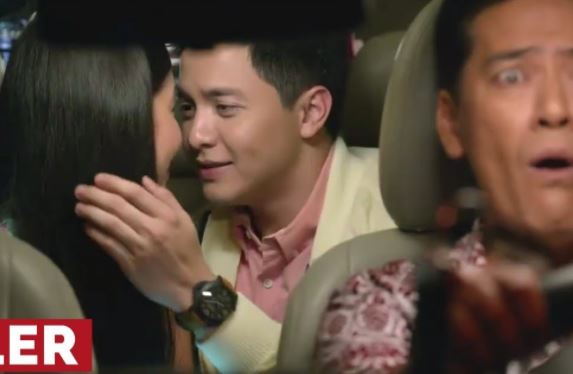 THE BAD.
The production takes a long time stating Ron and Andrea's already obvious differences in personalities, thus stalling the plot's progression.
Some jokes are not so clever that they come off as forced and flat.
Ron and Benjo's showdown could've been more challenging, so Andrea would've a hard time choosing.
THE WORTHY.
A Vic Sotto movie is a proven box-office winner, but Bossing still goes for something out of the box in Meant To Beh.
It means that he doesn't slack off and that he cares about his loyal fans and the general movie-going public.
He also proves that the real strength of his movies lies not on special effects but on good old family values and wholesome jokes.

BONUS: There are no annoying product placements in this MMFF 2017 entry!
Ed's Note: The 'PEP Review' section carries the views of individual reviewers, and does not necessarily reflect the views of the PEP editorial team.