Is Kris Aquino doing a movie with ABS-CBN's film production arm Star Cinema?
This was one of the questions raised by netizens when Kris announced that her career is now co-managed by Cornerstone Entertainment, Inc. headed by Erickson Raymundo, and her KCAP business manager Nicko Falcis.
In her announcement made through Instagram, Kris divulged that she has two upcoming movies, aside from the original production she is doing with an online streaming service.
A netizen asked if one of Kris's movies will be produced by Star Cinema.
She answered (published as is), "they've met, i've read the character study, i'm supposed to have the treatment soon... it will really be determined by the story & by their timeline.
"And by @iflix.ph's timeline. I've always been HONEST- iflix has the scheduling priority but it is dependent on when they finish the full script approved by the creative bosses based in Malaysia.
"I don't want to shortchange @starcinema or myself by participating in a project i can't be fully committed to.
"@nix722 & @visionerickson know this- when it comes to shooting a movie- i can't multitask... hirap ako to be bubbly & giggly doing branded webisodes then switch it up the next day & get into character...
"so marami kaming commitments na pirmado na that i'll need to finish 1st.
"After that long explanation- shortened version really is- if it's God's will, it shall fall into place."
Star Cinema is the producer of Kris's hit movies like Feng Shui (2004), Sukob (2006), and Sisterakas (2012).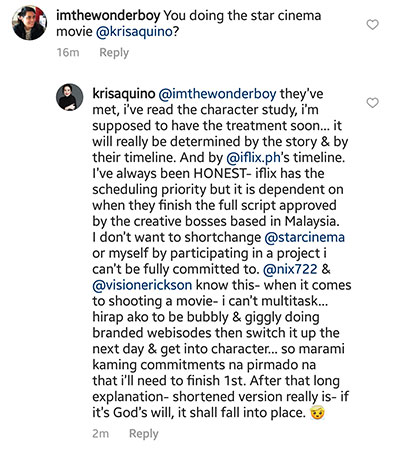 Yesterday, March 25, Kris made the announcement about her new management via her Instagram account.
She wrote, "This is an official THANK YOU - before all of you take off for your Holy Week vacations... my KCAP managing director @nix722 will now be co-managing me w/ @visionerickson & @cornerstone...
"We needed help as our workload began to grow at a hard to believe pace & because this year I'm committed to my @iflix.ph original production as well as 2 more movies we are all deciding on which to prioritize.
"I had a very good relationship w/ the Cornerstone artists while hosting Kris Tv, and @nix722 & I felt that as I return to acting, I will benefit most from the guidance and ALAGA of Erickson & Jeff.
"I'm very grateful that they are gamely taking on the challenge of trying to create a feasible shooting schedule for me because there are already so many digital & endorsement commitments. Here's to a fruitful & exciting partnership!"



Cornerstone Entertainment manages the careers of singers Erik Santos, KZ Tandingan, Kyla, and Angeline Quinto, to name a few.
These singers had several guest appearances in musical-themed episodes of Kris's defunct morning talk show Kris TV.
More details about Kris's upcoming digital movie are yet to be announced.
However, it was reported by PEP Alerts's PEP Troika that either GMA-7's Barbie Forteza or ABS-CBN's Miles Ocampo will be part of Kris's upcoming digital horror movie that will be directed by Adolfo Alix Jr.


Read: PEP TROIKA: Kris Aquino-Barbie Forteza horror movie, tuloy na?