The Atom Araullo-starrer Citizen Jake finally gets a playdate in Philippine cinemas.

The drama film will be screened in Philippine cinemas nationwide beginning May 23, 2018. This was confirmed by director Mike de Leon himself after several meetings with Solar Pictures in the past few weeks.

It is rated R-13 without cuts by the the Movie and Television Review and Classification Board (MTRCB).
On the Facebook page of Citizen Jake, director Mike appeals to the public for support: "My film may be fiction, but it is based on truths we ignore at our own risk. It should be seen by its audience in its original version, without cuts and without compromise. The film is not perfect, far from it, but it is a good honest film that is seeking an audience that I am convinced is out there. May you allow me to ask for your support?"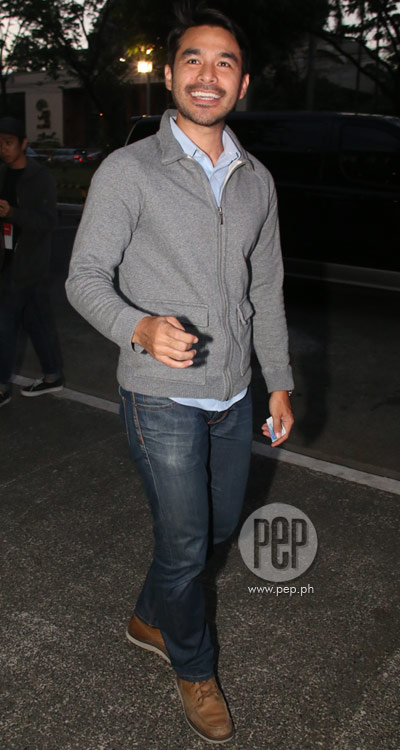 In the film Citizen Jake, Atom Araullo plays journalist turned blogger: Jacobo "Jake" Herrera Jr. His character chooses to live in his family's home in Baguio. Incidentally, the house used in the film is the real family vacation home of Direk Mike's grandparents: Narcisa "Dona Sisang" de Leon and Don Jose de Leon.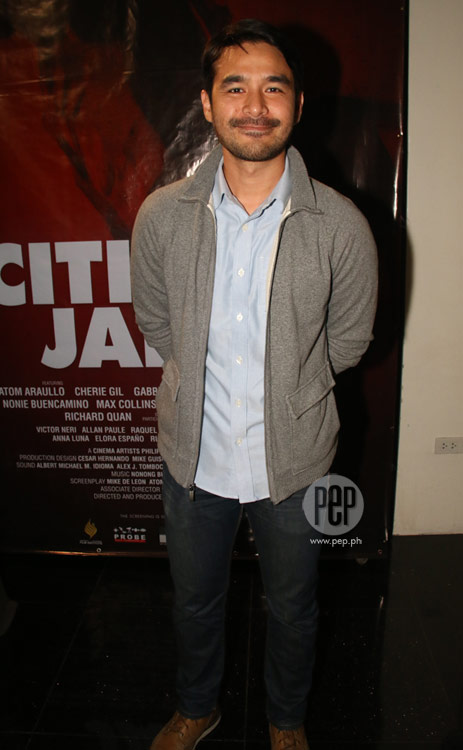 Direk Mike served as the voiceover in a video uploaded in the Citizen Jake Facebook page that discussed why he decided to create another film after almost two decades. His last movie was the 2000 movie Bayaning 3rd World.

In the video, Direk Mike praises Atom since he "embodies the spirit of the film, Citizen Jake himself."

Citizen Jake is the story of Jake Herrera, journalist and estranged son of a powerful Philippine senator. More than anything, he wants to prove he is not like his father. This has been the motivation for most of his adult life's decisions, from career choice to his attempt to build a life for himself far away, in Baguio. But circumstances force him to try to solve the brutal murder of a young, female student from the university he teaches in. The investigation brings him on a path to encounter corruption and to finally face his own demons.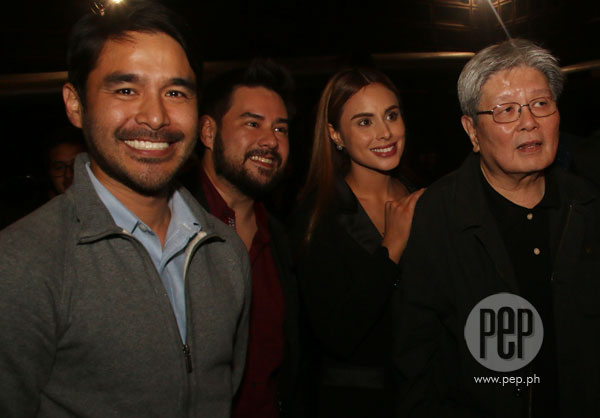 In Citizen Jake, Gabby Eigenmann (second from left) is cast as Roxie, the older brother of Jake while Max Collins is Jake's girlfriend named Mandy.

Roxie is a congressman who is obsessed with Francis Ford Coppola's Godfather film series.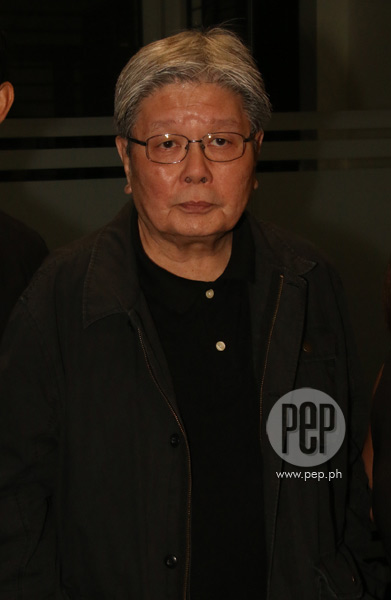 In the video uploaded on the Citizen Jake Facebook page, Direk Mike explained why he decided to create this drama film.
"Many people have asked me, bakit ako gumawa ng pelikula ulit after 19 years?
"I thought I had lost all interest in cinema but I recently realized that you cannot get rid of something na bahagi talaga ng iyong pagkatao."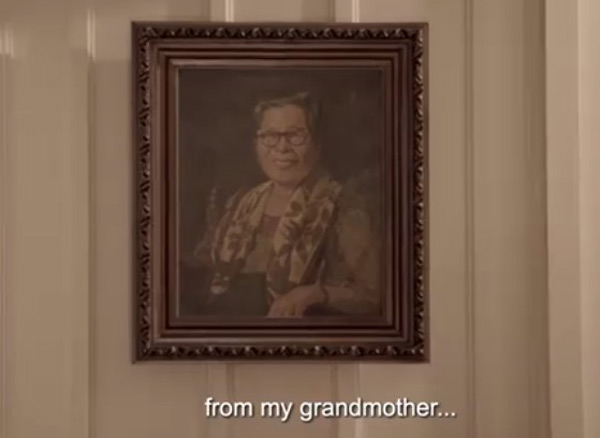 "This is part of the legacy that I inherited from my grandmother and my father," narrated Direk Mike who is the son of film producer Manuel de Leon and the grandson of Doña Sisang de Leon, the founder of LVN Pictures.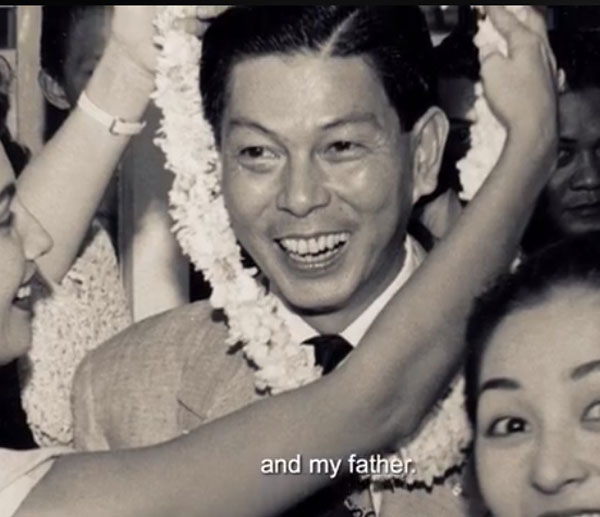 This photo of producer Manuel de Leon was shown in the video.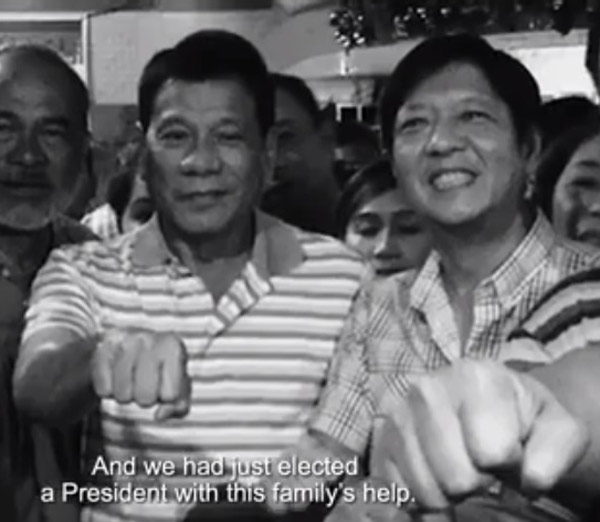 Direk Mike continued, "Bakit ganitong klaseng pelikula ang pinili kong gawin ngayon?
"Perhaps the idea that our country could allow the Marcoses, a family that has harmed our nation so much, to return to power greatly disturbed me.
"And we had just elected a President with this family's help."
At that point, a photo of President Rodrigo Duterte was shown in the video.

The next photo showed Duterte showing his trademark fist gesture with Ferdinand Marcos's son, Bongbong.
Direk Mike also discussed the sensitive issues that were raised in his film.
"Citizen Jake is a fictional drama of a dysfunctional privileged Filipino family. I wanted to explore the volatile combination of family and politics in our culture, the continuing feudalism, and paternalism that are a legacy of our history as a colony.
"It may be fiction but there are many elements of documentary truth in it and sometimes the lines are blurred.
To give an example, it was indicated that the family of Jonie (played by Luis Alandy) is based on real caretakers of Baguio.
"Citizen Jake is not a film about journalism but the inner journey of a privileged young man who happens to be a journalist."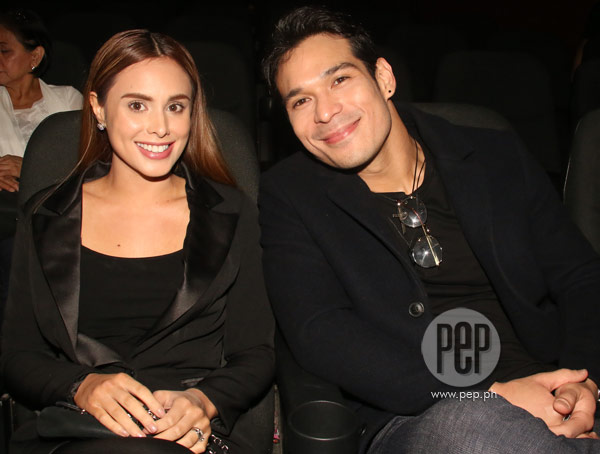 When asked for his feedback regarding the performance of his wife Max Collins, Pancho Magno said, "Sinong Max? Ang nakita ko si Mandy," referring to her character in the movie.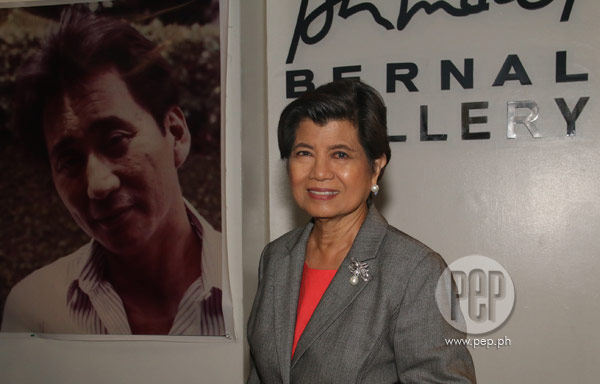 In her speech that night, Che Che Lazaro fondly recalled memories of Atom who used to be part of 5 and Up, the tele-magazine show that she produced in the past. The veteran broadcast journalist described Atom now as "terribly handsome."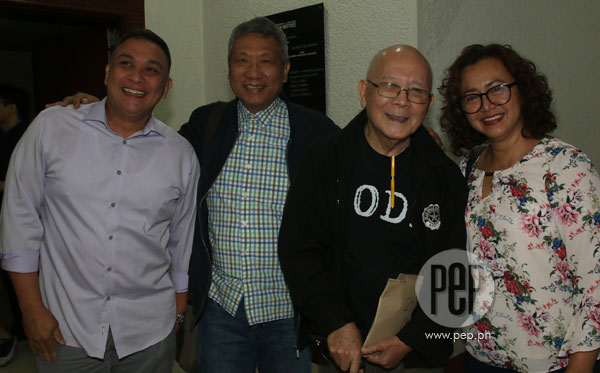 Nonie Buencamino (leftmost) is cast as a judge in Citizen Jake. He is shown here with (L-R) UP professor emeritus Nicanor Tiongson, National Artist for Literature Bienvenido Lumbera, and Shamaine Buencamino.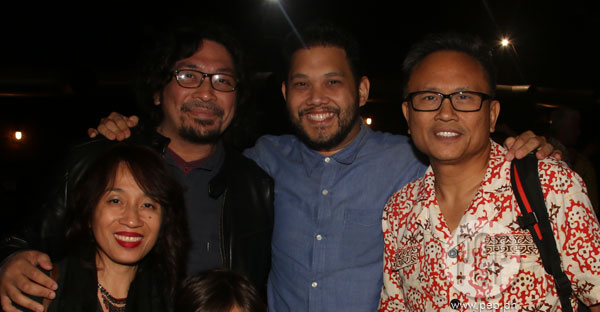 Among those spotted that night were (L-R) filmmakers Sari Dalena and Keith Dalena, Quark Henares, and GMA News pillar Howie Severino.