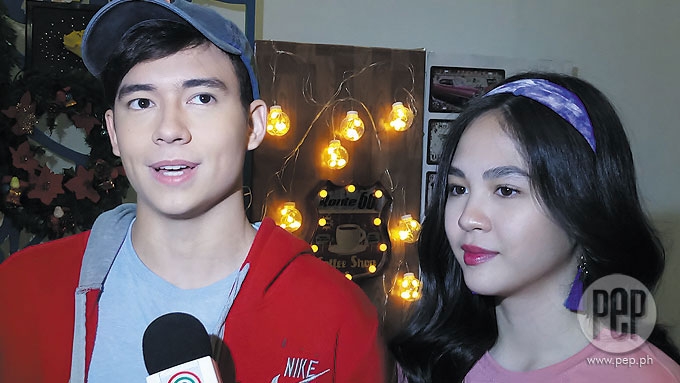 IMAGE Bernie Franco
---

"I already expected it naman," was Jameson Blake's candid answer when asked about getting bashers because of his team-up with Janella Salvador.
Jameson and Janella are top-billing the Regal Films movie So Connected, which is directed by Jason Paul Laxamana. He is the same director behind 100 Tula Para Kay Stella (2017), The Third Party (2016), Love is Blind (2016), and a number of well-received indie films.

Their film So Connected will premiere in cinemas on May 23.
One particular instance when Jameson was bashed was when he posted a greeting for Janella in time for her 20th birthday last March.
"There was this time I greeted her on my post: 'Happy birthday Trisha [her character in their movie].'"
He said that some fans of ElNella (name of Janella's team-up with Elmo Magalona) reacted negatively.
"They say I'm a user, I was using her for my fame, gusto ko daw sumikat. Wag naman puro promo.
The young actor justified, "I wasn't basically promoting."
Good thing that his fans defended him.
"I don't wanna fight them. I had my fans fighting them so I just let that happen. It was a riot."
The Kapamilya actor said that he has learned to shrug off negative comments from bashers.
"When I started in showbiz pag nakita ko nang gano'n I would really be affected, but then I just learned how to not care what people say.
"No matter what you say to people, they always have something to say to you.
"No matter [if you say] the greatest thing, the best thing, there will always be people saying bad things about you.
ADVERTISEMENT - CONTINUE READING BELOW
"We cannot avoid that situation.
"I'll just leave it there.
"Janella knows that as well. We're aware of that," he concluded.
In So Connected, Jameson portrays Karter, a video editor for a web channel, who loses his new smartphone to a thief. The smartphone eventually lands in the hands of Trisha, a waitress.
However, she doesn't know that the phone's photo and video gallery is synced to a program in Karter's computer. Having a glimpse of her life through pictures and videos, Karter becomes infatuated with her.
In a string of events, Karter finds a way to connect with Trisha and makes her realize that their connection is beyond the online world.