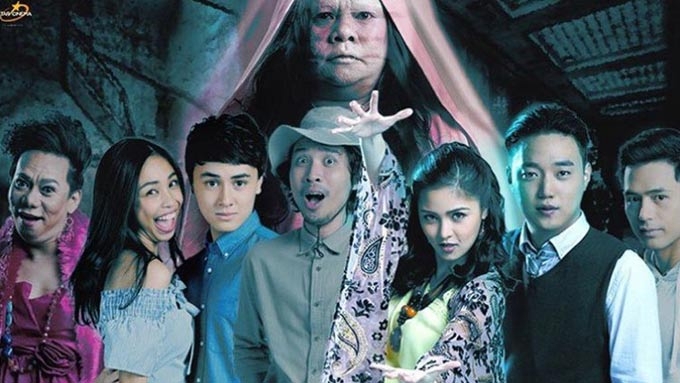 ---
Kim Chiu returns to the big screen as the quirky breadwinner of her family in the film DOTGA: Da One That Ghost Away.

Directed by Tony Reyes, this Star Cinema film explores the struggles of a low-income family while adding a touch of comedy and mild horror.
DOTGA follows the story of Carmel Monseratt (Kim Chiu) who is doing everything she can to save the house of her grandmother from being taken away due to their debts. She works as a faux exorcist together with her best friend Jerald "Jeje" Zee-Yan (Ryan Bang), and the rest of her friends—Bagang (Pepe Herrera), Ponzi (Lassy Marquez), and Basha (Moi Bien). They soon come across a wealthy bachelor who is looking for a group of experts to drive away the spirits residing in his inherited mansion.
THE GOOD.
Despite the film's consistent unpolished scenes, Kim Chiu shined as she held her own and delivered her comedic bits in her most charming way. For her comeback on the big screen since The Ghost Bride (2017), she was able to make do with the character written for her.
Considering this was Ryan Bang's first lead role, he was able to establish his character's own funny moments.
DOTGA has its own flaws in terms of plot development, yet it still manages to portray important values as shown mostly through Kim's character. Carmel exemplifies the devotion and love that most Filipino families aim to achieve.

However, while DOTGA puts a heavy emphasis on family love, the film reminds us about the dangers of putting someone on a pedestal.
ADVERTISEMENT - CONTINUE READING BELOW
THE BAD.
The movie had various inconsistencies, from plotline to character development, yet it remained consistent in one thing: being a hodgepodge of subpar humor and forced exchanges between characters. Not to mention that the film merged various genres into one that just made it seem a rushed version of each category.
As for the dialogue, the film made use of various references that is becoming common in local films under the comedy genre. With DOTGA, the over-use of these references made the comedic aspect of the film seem tired and not well planned.
THE WORTHY.  

Given all the flaws of DOTGA, the film finds its redeeming qualities through the lessons it imparts.

Carmel looked up to her grandmother believing that she could have no flaws, only to have those beliefs challenged. The movie also places great importance on the strong bond formed within a family.