Kris Aquino attended the premiere of Crazy Rich Asians at TCL Chinese Theatre in Hollywood earlier today, August 8 (Manila time).
She was perfection from head to toe except that her blood pressure of 80/50 was low.
READ Kris Aquino wows in Michael Leyva gown at Crazy Rich Asians world premiere
Kris revealed in her interview with News5 reporter MJ Marfori, "I can now admit, while you're interviewing me, my blood pressure is 80/50.
"It was will power talaga. I really said na nakakahiya to not show up when they prepared something special for me."
Before this, Kris suffered an extreme allergy attack, and had to get her doctor's go signal.
She actually flew to the U.S. with her medical team.
But all her health concerns had to be set aside especially since her Filipino fans came to see her.
She was, according to MJ, the most applauded star on the red carpet.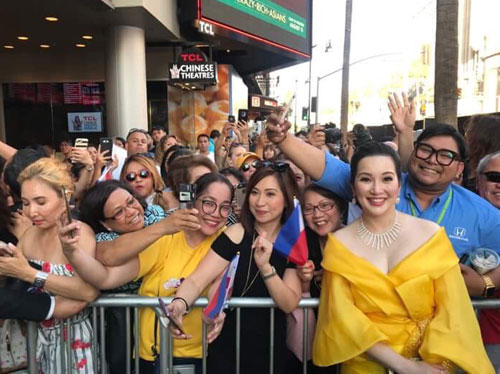 The 47-year-old actress was touched by the sweet gesture of fellow Pinoys.
"It was so touching that they made an effort.
"They really just came on their own volition.
"And the Lola told me she had a banner made and she was here since 12 noon. I was really so touched.
"That's why I said, 'May I cross just to say hello?'
"Because the effort they made for me is really just so touching."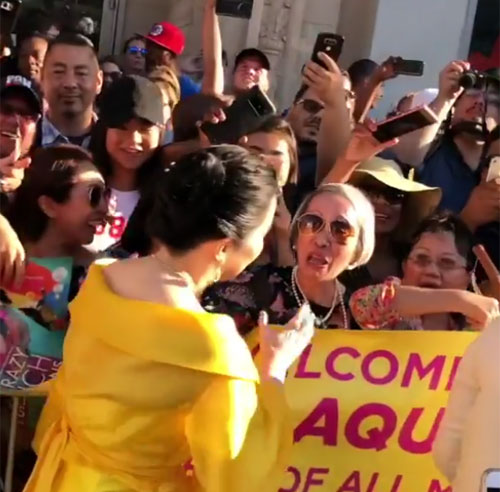 But Kris's red-carpet moment was just the tip of the iceberg.
In her previous social media posts about Crazy Rich Asians, Kris assured her fans, including the naysayers, that her appearance in the Hollywood film is going to be a "proud moment for us Filipinos."
On August 7, Canada-based entertainment website Lainey Gossip put it this way, "There is, however, someone who may outshine them all.
"Chris Pang, who plays Colin Khoo in the movie (he's the one getting married), calls her the true 'Crazy Rich Asian.'
"That would be Kris Aquino, arguably the most famous woman in the Philippines. My ma, the Chinese Squawking Chicken, called her the most beautiful woman in the movie. You will love her scene. Cannot wait to see what she wears tonight."

Kris quickly responded to this.
She told MJ, "I was super touched because Lainey Gossip, I was told that she's like the number one bloggist in Canada and she had such good words for me and the Philippines.
"As a Filipina, it felt like it was such a blessing."
On being a Pinoy Pride, she elaborated, "I think this is something all Filipinos all over the world will share with me, that we were able to carry the flag of the Philippines so proudly in any country where we are, because lahat tayo, ang ganda ng representation na ginagawa natin all over the country.
"Pinaparamdam natin talaga yung Pinoy Pride because of our work ethic and because of our compassion for everybody else."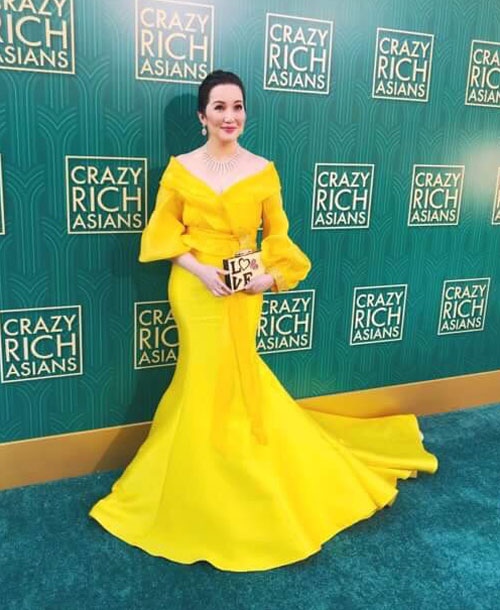 Kris was also joined by her gown designer Michael Leyva and son Bimby Aquino Yap at the premiere.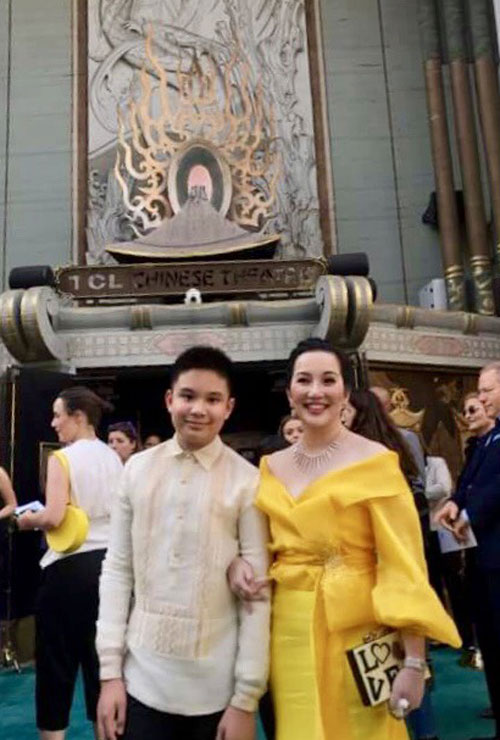 At press time, Kris Aquino and Crazy Rich Asians are trending topics on Twitter Philippines.