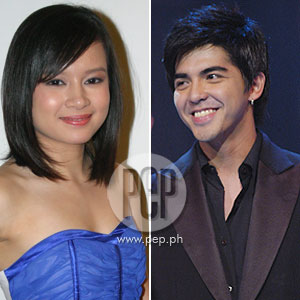 ---

Mark Herras leads the cast of a new independent film titled Sapi. This is his first taste of acting outside his home studio GMA-7. The first Starstruck Ultimate Survivor relates, "Sinabihan ako ng GMA. I think it's about time na pinayagan nila ako gumawa outside GMA Network. At sobrang happy ako sa opportunity na ito."
Mark is joined by fellow GMA artist Aiza Marquez, Ricky Davao, Nanding Josef, Joel Torre, Nina Medina and Pinoy Big Brother Celebrity Edition winner Keanna Reeves.
The film is helmed by Arnold Argaño, who sits as the director's chair for the first time. Arnold was previously the associate director of Troika, another indie film. He also directed several television commercials and documentary magazine shows.
The director has only praises for his young actors, Mark and Aiza. "This is the paramaters. This is what I want. And then kung may kulang, I add and I try to motivate. I give them scenarios. But for Mark and Aiza, they will push and it works."
Arnold is also proud of the fact that he is able to work with theater luminary, Nanding Josef.
"Twenty years ago, he was my teacher. And twenty years after, he's my actor," he said and smiled towards Nanding.
Sapi (Possessed) is produced by Win Asia Pictures, a newly established independent film production company headed by Leonor Sarmiento Vintervoll and Eden Lim Peñalosa. Arnold and his producers are hoping to bring this in the international market, with plans of entering it to the Berlin International Film Festival.
SYNOPSIS. A test of faith threatens to tear apart a small town already reeling from a communist insurrection. The conflict is set between the outspoken parish priest, Padre Allan (Ricky Davao) and the charismatic faith healer whom everyone calls "Manong" (Nanding Josef). In the middle of this conflict is the death of Ada (newcomer Stella Peñalosa), a young woman who many believed was have been possessed by the devil before her death.
ADVERTISEMENT - CONTINUE READING BELOW
"Manong" still feels the agony for his failure to save Ada, as the soul of the young woman roams the barrio. He senses that his own death is near as well and anoints Mario, a young farmer (Mark Herras) to be his heir apparent. But Mario's wife, Isay (Aiza Marquez) is skeptical about the faith healer and the promise of a child for the couple.
As days pass by, the young woman's ghost appears to Mario. Mario is reluctant and tries to make sense of the message Ada's spirit is telling her. The conflict between the priest and the charismatic healer is unwoven. The young healer takes the old's man's place and the town heals its spiritual wounds.

Sapi will open in SM cinemas starting November 19.