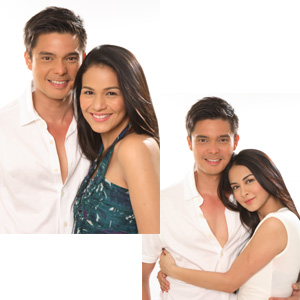 ---

What would you do if you can't recall the past three yearsof your life? How would you make someone remember his feelings for you if hismind refuses to do so? And how could you let go of the past when you still haveso many regrets about the present?
These are some of the questions that aim to be answered inthe upcoming romantic drama, One True Love. The characters of MarianRivera and Iza Calzado happen to be placed in the awkward situation of being inlove with the same man, played by Dingdong Dantes.
PEP (Philippine Entertainment Portal) gives a background ofthe characters who will appear in this movie directed by Mac Alejandre.
MIGS (DINGDONG DANTES). A neurologist by profession,he was previously involved in a relationship with Bela (Iza Calzado), his firstlove. He was heartbroken when he and Bela went their separate ways when sheleft the country to live abroad. He dedicated his time to his work, where heeventually met another woman who made him fall in love the second time.
ADVERTISEMENT - CONTINUE READING BELOW
Unfortunately, an accident causes his memories during thelast three years to be wiped out. Due to his amnesia and the medications thathe is taking, he develops mood swings and hallucinations. As a recoveringvictim of brain injury, he talks about the lesson that he learned: the heartremembers what the mind forgets.
JOY (MARIAN RIVERA). She is a registered nurse in thesame hospital where Migs is working. Three years ago, she was uncertain whetheror not she would accept Migs' proposal since she was afraid Bela would comeback in his life. She felt that she was just an available substitute, servingas first aid to his broken and aching heart.
Still, she took the chance and became completely devoted toMigs. When he develops amnesia, she patiently designs ways to make him remembertheir happy days together. She is determined to win him back and bring back hisoriginal mental state.
BELA (IZA CALZADO). She was madly in love with Migsuntil the time she left the country to go with her family. She returned to thePhilippines in time for Migs' wedding to Joy. Seeing her childhood sweetheartinvoked feelings of jealousy and made her realize that she had never stoppedloving Migs.
ADVERTISEMENT - CONTINUE READING BELOW
After the accident, Migs only remembers his love for Bela,making her grateful for this second chance at love. Yet, she is also fearful ofthe time when Migs regains all of his memories-can she handle being separatedfrom him the second time?
AVA (BIANCA KING). She is the younger sister of Migswho also works as a wedding planner. She has always wanted a sister and shefinds that connection with Bela.
RAYA (JENNICA GARCIA). She supported Joy at the timewhen Migs forgot about his current love.
MRS. ROBLES (TESSIE TOMAS). She is the head nurse ofthe hospital where Joy and Raya work. She offers advice for those who are in abroken relationship.
MOTHER OF MIGS (PINKY MARQUEZ). She does not takesides when it comes to choosing between Joy and Bela. Her mother, Migs'grandmother, died of senile dementia so she knows the feeling of beingforgotten by your loved one.
FATHER OF MIGS (CHINGGOY ALONZO). He is about toretire as an engineer and would often remind Migs to do the right thing.
ADVERTISEMENT - CONTINUE READING BELOW
LOLA OF JOY (BOOTS ANSON-ROA). She is based in theprovince but she still remains very close to her granddaughter.