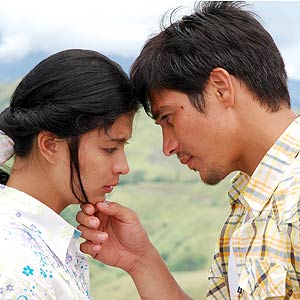 ---
Love Me Again tackledthe art of waiting.
The message of the film could actually be summed up thisway: "Sometimes, you just can't have what you want when you want it. But itdoes not mean you can never have it. Every thing takes place at the right time.It's not NO, it's just NOT NOW."
Ara and Migo, played by Angel Locsin and Piolo Pascual,respectively, both made big decisions that tested their love for each other. Theirstory unfolded with breathtaking Bukidnon as the backdrop.
The guy was a restless soul, and had made reckless choicesin the past. The girl was a very responsible panganay, and dreamed about a better future for her family. Heowned a ranch. She worked for a piña plantation.He was a rich kid and spent some of his college days in a reputable school. Sheonly finished high school, and could hardly speak English.
But the langit at lupaaspect did not become a major issue for the couple. It was their contrastingoutlook in life and the circumstances which forced them to part ways. Theturning point was when Ara's dad, portrayed by Ricky Davao, washit by a cow during Kaamulan festivaland suffered a mild heart attack. Migo helped in any way he could, to the pointof borrowing huge amount of money from a family friend in Davao. But Ara tearfully turned down Migo'soffer, and accepted a job offer in Australia.
Life in the Land Down Under was not as simple as shethought. She missed her family. She missed the less-rigid work hours in herhometown. She missed Migo.
Eventually, she was able to adjust, and her boss—amiddle-aged Aussie rancher named Bryan—tooknotice of her dedication and skill in Math. She was promoted from being a cook to becoming Boss Bryan's bride.
But fate could be tricky. Just before Ara's wedding, a newstockman arrived from the Philippines. His name: Migo.
ADVERTISEMENT - CONTINUE READING BELOW
Will she love him again? That's the core of the story.
THE RAVES:
1. I liked the way the film captured the beauty of the place,including its rich culture. I visited Bukidnon five years ago, but, fromthis film, I learned that there's more to it than the pineapples, thepine trees, and the infinite hills. Heck, I didn't know they have alot of cowboys.
2. I was impressed by Direk Rory Quintos's treatment on thetransition from the green scenery of Bukidnon to the stark ranch awaiting Arain Australia.It readily set the mood for the kind of life that Ara had to face in the LandDown Under.
3. The chemistry between Piolo and Angel was palpable. Cute din pala sila! I added the word "din"because I was a big fan of the two stars' tandem with their former screenpartners.
4. Angel's acting improved. I saw her performance in allher previous movies, and I sensed maturity in her portrayal of Ara's role.She successfully played the character of a Pinay engaged to a foreigner. Andif she can master putting more emotions into her voice, making the deliverymore intense—Angel will soon get the acting jurors' nod of approval.
5. The scenes labeled as "My Favorites" in my notes—Ara'stearful moment with her dad the night before she left Bukidnon; the walang-katapusang-pamamaalam portionwith her younger brothers, played by Nash Aguas and John Manalo, who both did agood job by the way; the webcam kamustahanwith her family; the transformation of Ara from the ranch cook to thefuture wife of the ranch owner; and that funny moment when Migo was correctingher English.
6. The scenes tagged as "shriek-worthy" by moviegoers—thelove scene at the barn and Migo's abs.
SOME HICCUPS:
1. Iliked the idea of capturing struggles of the main characters via a song, but Ipersonally found that portion a bit long.
ADVERTISEMENT - CONTINUE READING BELOW
2. Theshots for the love scene were done artistically, but the build-up was quitedragging.
3. Piolodid a good job, but looking at the depth of his character, I felt that itbecame secondary to Angel's. On a lighter note, fellow editor Rommel Llanes gotbothered with the outfits of Piolo. "Bakit kailangang iba yung sleeves ng damitniya sa ibang cowboys?"
4. Mycurious question: What happened to Boss Bryan?
Overall, the film was able to capture the beauty of Bukidnonand the struggles of the characters vividly and withoutexaggeration. Tama lang ang timpla ngdrama at saya.
For the Piolo-Angel fans, Love Me Again is definitely worth the wait. And to those who havebeen waiting for somebody or for something to happen, this movie is a must-see.
Trailer courtesy of Star Cinema