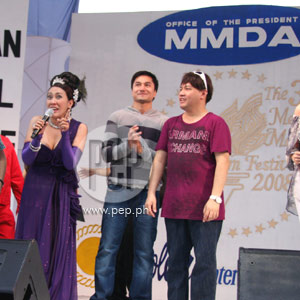 ---

To date, the 34th Metro Manila Film Festival is the mostprofitable edition of the annual film festival.
When the MMFF officially ended last January 7, 2009, thetotal box-office receipts of the eight official entries totaled P450.841million.


This figure is 19 percent higher compared to the totalearnings of the MMFF last year, according to Ric Camaligan, MMFF executivecommittee member and head of the National Cinema Association of thePhilippines.


Last year, box-office receipts of nine official entriesamounted to 380.241 million pesos. In the 33rd edition of the filmfest, the firstbatch of films (six entries) premiered on December 25 and the second batch(three entries), on January 1.


For the 2008-2009 period, all eight entries opened on Christmas Day.
WINNING COMBINATION. It seems that the Metro ManilaDevelopment Authority has come up with a successful formula that allowed themto reach record-high box-office sales despite the global financial crisis.
In a previous interview, PEP (Philippine EntertainmentPortal) asked MMDA chairman Bayani Fernando for the secret behind the markedimprovement in box-office figures.
"Every year, nag-i-improve ang filmfest natin, pati sacriteria sa judging. Everything is geared towards earning more money. Andindeed, we are earning more money. But we still have to break the P500-millionmark," he says.



According to Mr. Fernando, their previous record was set during the 32nd MetroManila Film Fest in 2006 when box-office receipts totaled P415 million.
The group organizing the annual filmfest has yet to surpassthe P500-million mark but they were only P50 million short of their target forthe recently concluded film fest.
The sequel of Ang Tanging Ina topped box-office salesduring the 14-day film festival that is limited solely to Filipino films.Incidentally, this family comedy starring Ai-Ai delas Alas is counted among theBlockbuster Films of 2008—based on data presented by SM Cinema and RobinsonsMovieworld—even though it was shown for only seven days in 2008. (Click HERE to read related article.)


ADVERTISEMENT - CONTINUE READING BELOW
Here is the box-office gross of the 34th Metro Manila FilmFestival entries (as of January 7, 2009)
1. Ang Tanging Ina N'yong Lahat (Star Cinema) P171.6million
2. Iskul Bukol: 20 Years After (M-Zet, OctoArts Filmsand APT Productions) P107.5 million
3. Shake, Rattle & Roll X (Regal Entertainment)P68.6 million
4. Desperadas 2 (Regal Entertainment) P49.3 million
5. Baler (Viva Films and Bida Foundation) P35.8million
6. One Night Only (Canary Films) P10.5 million
7. Dayo sa Mundo ng Elementalia (Cutting EdgeProductions) P5.3 million
8. Magkaibigan (Maverick Films) P2.1 million
For more information about the eight (8) official entries ofthe 34th MMFF, visit PEP's microsite by clicking HERE .