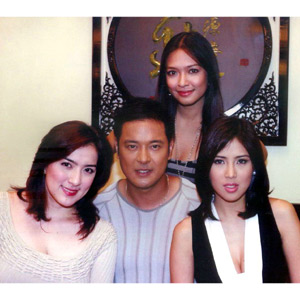 ---

Actor turned producer Allen Dizon begs off from producinggay films, despite its popularity and reputation as a lucrative source of income.
"I have nothing against gay films but it's already 'a penny adozen', so why jump into the bandwagon? This is why it took us some time to dothe follow up to our initial project Paupahan. We want to be different.I want to do movies of respectable production values and socially-relevantthemes, like Marino and Dukot: Desaparecidos, independent films in concept but mainstream inproduction values, stars and promotion," explains Allen, who was last seen inthe Viva Films movie Baler.

This upcoming film will still have daring scenes and themes, which he promisedwill be executed artistically to suit more young audiences, just like Paupahan.

After producing its first venture Paupahan, which was given a Grade of"B" by the Cinema Evaluation Board, Allen's ATD Entertainment Productions isnow in the process of shooting two indie films. These are Marino, whichis about the lives of seamen and the families they leave behind, and Dukot,which highlights extrajudicial killings and human rights violations.

Ateneo graduate and Cinemalaya alumnus Paul Sta. Ana directs Marino. DirekPaul helmed the 2008 Cinemalaya entry Huling Pasada. Meanwhile, JoelLamangan directs from a script by Palanca awardee Bonifacio Ilagan.

"I first took up Marine Engineering at PMI [Philippine Maritime Institute].Although I had only one semester of it, I learned a lot about the lives ofseamen. Had I not pursued showbiz, I could have been a seaman myself," addsAllen.
Marino boasts another powerhouse cast: Ara Mina, Allen Dizon and Krista Ranillo, who was given a plum role in Allen's first film Paupahan.Marino also stars Emilio Garcia; singer and PhilippineIdol finalist Jan Nieto; hunk actor and former SOP Showboysmember Marco Alcaraz, as well as Tanduay 2009Image Model and Star Magic talent Bangs Garcia.

Reality show alumni from both networks are cast in this indie film. These are PinoyBig Brother Celebrity Edition alumnus Victor Basa,StarStruck 2Ultimate Survivor Mike Tan, and Pinoy BigBrother Season 1 alumnus Rico Barrera.

Co-starring are Jaja "Jaboom" Gonzales, BenjieFelipe, Holy Reyes, Nella Marie Dizon and Lui Manansala.
ADVERTISEMENT - CONTINUE READING BELOW
Marino shows the lives and loves of seamen, theirheroism as OFWs and the effects of distance on them and their loved ones. The movie aims students of maritime schools and marine groups in thecountry as its target audience.
Jan Nieto sings the theme song "Bakit Kailangang Lumayo?"composed by singer-songwriter Ogie Alcasid.
Shooting of
Marino
will take place in the townsof Paombong and Malolos in Bulacan. Thefilmmakers also plan to shoot scenes in Bangkok, Thailand and other Asianlocations this month.