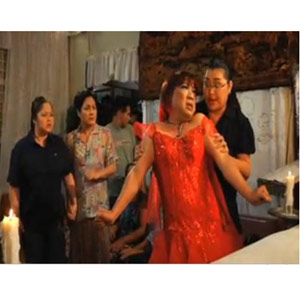 ---
What happens when a member of the family suddenly dies? Whatif the family of the deceased is not ready for the eventual passing away oftheir loved ones: how does one cope with the event?

The comedic tale of a large family coming to terms with the death of their lolowas given an "A" rating by the Cinema Evaluation Board. This ensures that thisfilm receives 100 percent rebate on its amusement tax.

Directed by Soxie Topacio, Ded na si Lolo is based on his experienceswith death when he was still a young boy. Child actor BJ Forbes actuallyrepresents Direk Soxie while Dick Israel, Elizabeth Oropesa, Gina Alajar,Roderick Paulate, and Manilyn Reynes portray the family members and therelatives whom he observed while they were burying one of his aunts.

He recalls that he was nine years old when one of his aunts died. He animatedlynarrated how his mother and his titos and titas fainted one at atime during the wake. When the trailer of the Sine Direk entry was shown atTeatrino during the grand launch, members of the press and guests laughedheartily as the stars of the film were shown fainting during crucial moments ofthe film.

Direk Soxie summarizes his work by saying, "The entire movie depicts the sixdays of lamay [wake]. Nagstart angpelikula with an announcement na patay na ang tatay nila. Point of view ito niBJ Forbes, anak ni Manilyn [Reynes] kaya Dedna si Lolo ang title.

"Ang ending libing [ng lolo.] Sa lamay, lahat bawal. Bawal nakapula, bawalmaglinis ng bahay, bawal maligo, bawal matuluan ng luha."
He says of his film, "Comedy ito pero may iyakan din."

According to Direk Soxie, this film reflects how Pinoys view death. "You seethe entire Filipino culture in a nutshell sa isang lamay. Merong magkagalit nanagbabati and usually naman ganun tayo, di ba, sa patay, a lot of things areresolved."
ADVERTISEMENT - CONTINUE READING BELOW
Ded na si Lolo isbeing screened in Cinerama in Manila, Festival Mall in Muntinlupa, RobinsonsManila, Robinsons Galleria, Robinsons Metro East, Robinsons Novaliches, SMFairview, SM Manila, SM North Edsa, SM Megamall, SM Southmall, SM Centerpoint,and Sta Lucia East.
This dramedy wasproduced by Tony Tuviera's film outfit APT Entertainment in cooperation withthe Directors Guild of the Philippines project. It is one of six entries to theSine Direk film series, which kickedoff with the screening of Fuschialast week.

On May 20, Lore Reyes's film Litsonero will be screened; followedby Peque Gallaga's Agaton and Mindy on May 27; Mel Chionglo's Bente on June 3;and Maryo J. delos Reyes's Kamoteng Kahoy on June 10, 2009.

(Click HERE to read more about Sine Direk film series.)



SYNOPSIS. Family members with unresolved issues gather together to mournthe death of the family patriarch Juanito Hernandez. But getting in the way oftheir genuine grief are a bunch of superstitions about the dead and thefamily's inability to deal with each other in a civilized way.

The story unfolds with the ever-observant eye of Bobet, a grandson of thedeceased, who, in the process also learns the complexity of burying our beloveddead.


The Hernandezes are vendors in the local market of Tondo,Manila. Isidro, the eldest of the brood is a meat vendor, Dolores, is a fruitvendor, Mameng, is into home-cooked dishes and Charing is a vegetable vendor,Joonee, the second to the youngest is not of the vending business. He sells'happiness' as a female impersonator. Since all of them are purveyors, the mainbodily instrument that they use is their voice boxes. Indeed, the Hernandezfamily is a family composed of loudmouthed individuals.
Through the course of the wake, Bobet learns about thesuperstitious beliefs that Filipinos follow when someone dies. No one isallowed to sweep and clean the premises of the wake. Members of the immediatefamily are not allowed to accompany anyone to the door or gate when they areleaving. Red is not the appropriate color to wear in attending a wake and manymore.
ADVERTISEMENT - CONTINUE READING BELOW
Bobet is also witness to the fainting spells of his mother,aunts and uncle to which his kept ammonia were of great assistance. But a wakewill not be a wake if there are no surprises. At the wake comes a mysteriouswoman - whom Isidro explained to his younger siblings as the first wife oftheir father. The drama unfolds with this revelation.
Resolutions and acceptance are but a way to appeasethe spirit of the dead. In one dramatic moment, Juanito's children are now onesolid family.