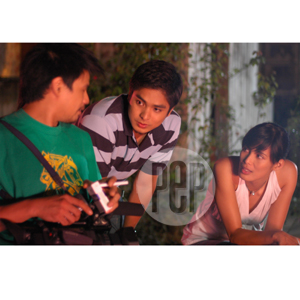 ---
When Brillante Mendoza of CenterStage Productions thought ofproducing a film about Siquijor, a small island in Region 7 (Central Visayas),he never imagined that it would escalate into a controversial and sensitivetopic for some of our kababayans.
Called Isla del Fuego or the "Island of Fire" by theSpanish before, Siquijor is known as the mystic island because of the mambabarang(witch doctors), mananambals (faith healers), and other horrorelements associated with the island.
Direk Dante (Brillante's nickname) told PEP (PhilippineEntertainment Portal) that his intention for doing the film Siquijor: MysticIsland was actually to promote tourism in the island.
"Sabi ng vice-governor [Carl Gahinhin], baka daw magkaroonng misinterpretation ang mga tao about Siquijor. Yung mga mambabarang...Ang sabiko naman, bakit ang Capiz ginawa pa nga nilang tourist attraction iyon? Now,they're very famous for the aswangs.
"Sabi ko nga sa kanila, 'To tell you honestly, hindi namanganun kaganda ang beaches dito. Parang kalaban na natin d'yan ang Boracay, Palawanand there are nice beaches in Cebu. Sabi ko, mas maganda nga kung i-promotenatin ito sa ganitong klaseng lugar—mas maraming pupunta ditong foreigners."
In his March 7 interview during the CineVita film festivalat the University of Santo Tomas, Direk Dante clarified that he did not receivea formal complaint from the local government officials of Siquijor.
"Wala naman kaming natanggap at that time but we werealarmed kasi yung mga contact ko dun, tinawagan ako at sinabi na nagmi-meetingyung provincial board members. Inunahan ko sila. Sinulatan ko and I wrote: 'Isthere a problem?' Sabi ko, if there's a problem, ihihinto ko na. I'm willingnaman to let go the title and change it to another title. But I did not receiveany letter from them."
"I called them again last month and I said I will proceed ifI don't receive any letter from you since it means that it's okay to go on withthe title. Title lang naman ang issue because the film could have happenedanywhere. Hindi naman specific na ganito yung nangyayari sa Siquijor."
ADVERTISEMENT - CONTINUE READING BELOW
Siquijor: Mystic Island was finally screened attheaters starting yesterday, March 14. It is about a production team of thehorror TV show Hilakbot, which goes to Siquijor to shoot the mysteriesof the island.
The Hilakbot team is composed of executive producerDoreen (Angel Aquino), the director and Doreen's ex-boyfriend Xavier (IanVeneracion), host ng show and Xavier's girlfriend Alexandra (Assunta de Rossi),cameraman Carlo (Yul Servo), trainee production assistant Miguel (Coco Martin)and the newbie writer-researcher Jake (Sid Lucero).
A local coordinator named Domeng(Simon Ibarra) brings the production crew to meet a mambobolo, an herbaldoctor who cures victims of witchcraft. The production team ends up staging anexorcism ritual wherein a possessed victim gets beaten up by the mambobolo.
Siquijor: MysticIsland has received a Brating from the Cinema Evaluation Board and was given a PG-13 rating,without cuts, by the Movie andTelevision Review and Classification Board.