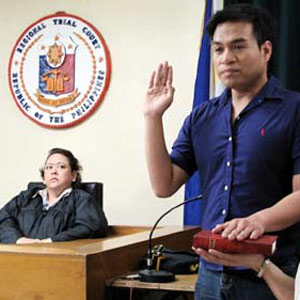 ---
In the Philippines, the path to justice is like a long, winding staircase.It goes round and round, consuming all your time and energy. This is not onlyapplicable to cases of homicide, rape, robbery, and other heinous crimes.Sometimes, even the pettiest offenses take that same winding road to justice.

Wilson (Joey Paras) is an assistant production designer tasked to look for awall decoration depicting the Last Supper to be used as a prop for a corned beef TVcommercial shoot. He found three. He presented them to the director and let himpick one. After the shooting, he realized that one of the borrowed tapestries was missing.


Unfortunately, the lost rug belongs to Gareth (Jojit Lorenzo), ascheming money-hungry son-of-a-gun, and Suming (Beverly Salviejo), his equallyscheming mother. What started out as a petty offense turns into a legal circusthat stole two and a half years away from our unlucky protagonist.

This certified audience hit at Cinemalaya Cinco proves that well-intentionedcomedies can make a point. In the film, the gravity of the offense is notproportionate to what Wilson has to go through. And because of theinefficiencies of the procedures of the law, he found himself being chargedwith estafa and serious physical injury. Inside the justice halls, he wasunwittingly pushed into a web of opportunism and bureaucracy. To make mattersworse, the judicial process ran at turtleneck speed. Wilson faced tediousarraignment procedures, repetitively paid settlement charges, and met numerousdelays.
ADVERTISEMENT - CONTINUE READING BELOW

Joey Paras is a discovery. With his natural gift of humor, this comic cangive the likes of Chokoleit and Pooh a run for their money. Meanwhile, cameoappearances from Maricel Soriano, Ricky Davao, and Liza Lorena gave the film added punch. The musical scoring is likewise commendable. The lively soundtrackcomplements the jovial spirit of the film, although it has the tendency to become overbearing in some scenes.

Last Supper No. 3 makes fun of the legal nightmare that is the Philippinejudicial system. It's a boring premise, but because directors Veronica Velasco& Jinky Laurel know very well not to take the topic too seriously, theyveered away from the tendencies to preach about red tape and bureaucracy, Theresult? A courthouse comedy that is satirical and socially relevant.
Regular tickets to Cinemalaya are priced at P100 while students can buy tickets for only P50. A day pass costs P300 (good for 5 screenings per day) while a festival pass costs P1000 (can be used for all screenings).


For more information, please call the CCP Box Office at 832-3704 or
832-1125 local 1409. Tickets are also available at National bookstores and Ticketworld outlets (Tel No. 891-9999).







Fidel Antonio Medel is a cum laude graduate of the University ofSanto Tomas and a member of the Thomasian Writers Guild, the literarycircle of UST.He also served as the editor-in-chief of the college paper.
ADVERTISEMENT - CONTINUE READING BELOW