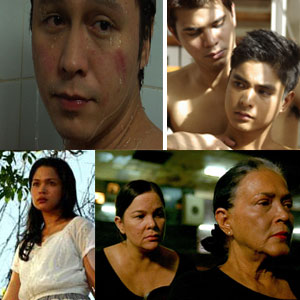 ---
The Manunuri ng Pelikulang Pilipino has already released thelist of nominees for the 32nd Gawad Urian for excellence in filmmaking.

In last year's edition, the indie film Tirador was hailed as"Pinakamahusay na Pelikula" while its director Brillante Mendoza was cited for"Pinakamahusay na Direksyon." The recipient of the Natatanging Gawad Urian wasacclaimed filmmaker Kidlat Tahimik.

(Click HERE to view the winners of the 31st Gawad Urian)


The awards night of the 32nd Gawad Urian is set for September 19 at theCultural Center of the Philippines.

This year's outstanding nominees for Best Picture are all indie films: FrancisXavier Pasion's Jay, Brillante "Dante" Mendoza's Serbis, Arnel Mardoquio'sHunghong sa Yuta (Earth's Whisper), Lav Diaz's Melancholia,Ellen Ongkeko-Marfil's Boses, Sherad Anthony Sanchez' Imburnal,and Richard Somes' Yanggaw.

It is interesting to note that Daybreak co-stars Coco Martin and PauloRivero are competing against each other for the Best Actor trophy while Serbisco-stars Gina Pareño and Jaclyn Jose are also pitted against each other forthe Best Actress Award.

Based on the list given by the Manunuri, Yanggaw earned 11 nominationsout of the 12 categories of Gawad Urian. This included double nominations forTetchie Agbayani and Aleera Montalla of Yanggaw for the category BestSupporting Actress.

Direk Dante's film Serbis bagged ten nominations this year while Melancholia,Lav Diaz's eight-hour pastoral meditation on love, life and suffering, earned 8nominations.

Two of the films nominated for Best Picture were shot in Mindanao: Hunghongsa Yuta, described by the Manunuri as a "poignant movie about war and peacein Mindanao as seen through the eyes of deaf-mute children" and Imburnal,which is called "a bucolic but mordant romp through the dirty creeks and grimyalleys of Davao City."


Here is the list of nominees for this year's Gawad Urian:


Best Picture

Jay (Cinemalaya)
Serbis (Centerstage Productions)
Hunghong sa Yuta (Brothers of the Sacred Heart YouthMinistry)
Melancholia (Sine Olivia)
Boses (Casa San Miguel)
Imburnal (Cinema One Originals and Creative Programs)
Yanggaw (Cinema One Originals and Creative Programs)


Best Director

Francis Xavier Pasion (Jay)
Brillante Mendoza (Serbis)
Arnel Mardoquio (Hunghong sa Yuta)
Lav Diaz (Melancholia)
Ellen Ongkeko-Marfil (Boses)
Sherad Anthony Sanchez (Imburnal)
Richard Somes (Yanggaw)
Tara Illenberger (Brutus)
Adolfo Alix Jr. (Imoral)



ADVERTISEMENT - CONTINUE READING BELOW
Best Actor


Baron Geisler (Jay)
Julian Duque (Boses)
Ronnie Lazaro (Yanggaw)
Coco Martin (Daybreak)
Paulo Rivero (Daybreak)
Timothy Mabalot (Brutus)
Perry Dizon (Melancholia)
Neil Ryan Sese (Huling Pasada)

Best Actress
Gina Pareño (Serbis)
Jaclyn Jose (Serbis)
Judy Ann Santos (Ploning)
Mylene Dizon (100)
Angeli Bayani (Melancholia)
Rhea Medina (Brutus)
Boots Anson Roa (Lovebirds)
Anita Linda (Adela)


Best Supporting Actor


Coco Martin (Jay)
Julio Diaz (Serbis)
Yul Servo (Brutus)
Roeder Camanag (Melancholia)
Archie Aleman (Baby Angelo)
Best Supporting Actress

Tessie Tomas (100)
Katherine Luna (Imoral)
Tetchie Agbayani (Yanggaw)
Aleera Montalla (Yanggaw)
Flor Salanga (Jay)
Agot Isidro (Huling Pasada)
Best Screenplay

Richard Somes and Dwight Gaston (Yanggaw)
Francis Xavier Pasion (Jay)
Armando Bing Lao and Boots Agbayani Pastor (Serbis)
Lav Diaz (Melancholia)
Arnel Mardoquio (Hunghong sa Yuta)
Froilan Medina and Rody Vera (Boses)

The names of the persons nominated for the technical awards will be given at alater date.

Best Production Design

Melancholia
Yanggaw
Jay
Baby Angelo
Serbis
Hunghong sa Yuta
Ploning
Imburnal

Best Cinematography

Yanggaw
Serbis
Jay
Huling Pasada
Ploning
Melancolia
Boses
Imburnal
Adela
Brutus
Hunghong sa Yuta

Best Editing

Jay
Huling Pasada
Serbis
Yanggaw
100
Motorcycle
Ploning
Imburnal

Best Music

Boses
Concerto
Ploning
Imburnal
Brutus
Yanggaw
Kolorete
Hunghong sa Yuta

Best Sound

Hunghong sa Yuta
Serbis
Ploning
Yanggaw
Boses
Adela
Melancholia




The Manunuri ng Pelikulang Pilipino is headed by Rolando Tolentino, dean ofthe UP College of Mass Communication. Other MPP members are National Artist forLiterature Bienvenido Lumbera; Nicanor Tiongson, former artistic director ofthe CCP and former chair of the Movie and Television Review and ClassificationBoard; Mario Hernando, Sunday Malaya editor and MTRCB member; Miguel Rapatan ofthe De La Salle University; Butch Francisco, columnist and co-host of
Startalk
;Lito Zulueta, Inquirer lifestyle editor and professor at the University ofSanto Tomas; and Benilda Santos and Tito Valiente, professors at the Ateneo deManila University.