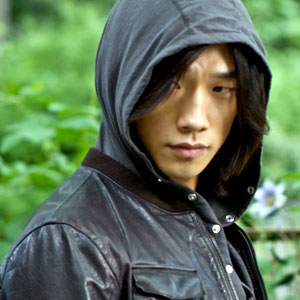 ---
Korean superstar Rain headlines for the first time a major Hollywood motion picture in Warner Bros.' high-energy action-thriller Ninja Assassin. The film is directed by James McTeigue (V for Vendetta) and produced by Joel Silver, Larry Wachowski and Andy Wachowski (The Matrix trilogy).

In order to be certain they could make the kind of film they all wanted to see, the filmmakers had to find the perfect actor to play Raizo, who was not only able to take on the physical demands of the character's warrior side, but who could also be a believable leading man.

"The day that Rain did his first scene in Speed Racer," recalls Silver, "the Wachowski brothers called me and said, 'This guy is unbelievable. He's a natural. He is our dream come true.' And we began to plan Ninja Assassin immediately." McTeigue says, "Rain's physical ability was so good that we thought if we could do an all-out ninja movie, he would be the one to do it with."

"When we were working on Speed Racer, Larry and Andy approached me and asked if I would be interested in being a ninja," remembers Rain. "How could I say no to that? I told them, 'Tell me when and where and I'll be there.'"

Ninja Assassin follows Raizo, one of the deadliest assassins in the world. Taken from the streets as a child, he was transformed into a trained killer by the Ozunu Clan, a secret society whose very existence is considered a myth. But haunted by the merciless execution of his friend by the Clan, Raizo breaks free from them...and vanishes. Now he waits, preparing to exact his revenge.

"Raizo is a great assassin, one of the best students Lord Ozunu has ever had," says Rain about his character in the movie. "But the bloodshed gets to him, and he has to escape. And by leaving, he must betray Ozunu, who will then stop at nothing to destroy Raizo. So Raizo leads a quiet, anonymous life...knowing that one day, Ozunu will find him."
ADVERTISEMENT - CONTINUE READING BELOW

The role of Raizo called for an actor with a special intensity, who could convey a lot of emotion in a very subtle way. "Rain is smart and instinctive and incredibly dedicated," says McTeigue. Silver adds, "Rain really is a magnetic personality. You can't take your eyes off of him, he commands the screen."

Surrounded by some of the best of the best in the martial arts world as well as top form athletes, Rain also needed to engage in an intense training regimen so he could appear to be a ninja trained from childhood. His performance impressed them. "Rain can mimic the action and then put a little emotion into it—he could act within the action," offers fight trainer Chad Stahelski. "I think he picked things up faster than anybody we've ever worked with. He had good physical aptitude, but he also had a great mental capacity for the action, which I think is even more important."

"I trained for six hours a day for six months," recalls Rain. "Five hours on martial arts and one hour on total body fitness. Their system is amazing. It's not just about lifting weights and cutting out chocolate. It combines a re-growth diet and a lot of core strength building. It's about the entire body, inside and out, not just single muscle building. It was hard, but it was incredibly rewarding."

The actor completely transformed himself. "I'm absolutely sure people won't believe that it's his body on screen. They'll think we digitally altered him," McTeigue laughs, going on to say that during filming his star "joked about the idea that, on the day that we wrapped, he would just eat noodles and drink beer and smoke cigars."

Rain's training regimen also included extensive weapons work. "We worked chains, single and double swords and shuriken, which are known as throwing stars," the actor states, "and I had to learn to use them with force, and while doing jumps and rolls. Very difficult stuff, but I enjoyed it."
ADVERTISEMENT - CONTINUE READING BELOW

Opening across the Philippines on Thursday, November 26, Ninja Assassin is a Warner Bros. Pictures presentation in association with Legendary Pictures and Dark Castle Entertainment.