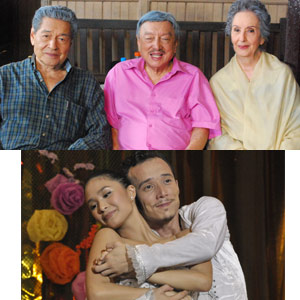 ---
At 81 years old, Dolphy is still in the business of making movies. The King of Comedy will be returning to the big screen with a love story that spans several decades, just like his colorful showbiz career.

In the press conference of Nobody, Nobody but...Juan held at the Blue Bay restaurant in Manila, Dolphy points out that he used to be a regular in the Metro Manila Film Fest—which was held every June before former President Joseph Estrada decreed that it be moved to December.

"Ako, noong araw, basta Film Fest kasama ako, eh," recalls Dolphy. "There was a time na every year may entry ako. Nakaka-miss din."

In fact, the Metro Manila Film Festival has been home to many Dolphy hits, among them the acclaimed comedy-drama Markova Comfort Gay, for which he and his sons Eric and Epy won the Best Actor award at the 2001 Brussels International Film Festival; the environmental comedy Home Along da Riber, the family picture Wanted Perfect Father, the magical fantasy Espadang Patpat, for which Dolphy received an MMFF Best Actor trophy; the epic film Once Upon A Time, and other films.

For his upcoming film, his character Juan is patterned, in a way, after the life of Rodolfo Vera Quizon (Dolphy's real name).

In real life, Rodolfo Vera Quizon started his career by performing as a vaudeville dancer named Golay during the Japanese occupation. This episode in his life is depicted in the movie Juan with the younger version of Dolphy being portrayed by Jeffrey "Epy" Quizon. Just like Dolphy, the character Juan also goes to the United States to seek greener pastures.

This Metro Manila Film Fest entry was originally titled Juan but when the Wondergirls song "Nobody" became a big hit, Dolphy himself suggested that they add "Nobody, Nobody" to the title. It is directed by Dolphy's son, Eric Quizon, from a screenplay by Bibeth Orteza, and produced by Kaizz Ventures in partnership with RVQ Productions.

Simply called Juan, this movie is a heartwarming love story and family-centered comedy that encompasses the 1940s to the present. It takes place in the United States and the Philippines.

This film was shot for 13 days in the Philippines and six days in Chicago. Why did they decide to shoot Juan in the Windy City?

"Para maiba naman kasi usually, yung mga pelikula either New York or San Francisco. Chicago is a beautiful city. Ang maganda sa kanya meron lake, ang Lake Michigan. The architecture of Chicago is very nice. You have tall skyscrapers and, at the same time, you have all these Gothic structures," explains Direk Eric Quizon.

It also happens that Joe Aldeguer, a co-producer of the film, also resides in Chicago where he works as a TV and radio personality. Both Eric and Joe are cast as the sons of Dolphy in this movie. They shot the scenes of Eric's character in Chicago with his wife (played by G Toengi).

The characters of Eric and G run an assisted-living residence that takes care of senior citizens. "In America now, halos lahat ng nursing homes are run by Filipinos. Yung mga matatanda, nasa bahay lang at namamatay na lang nang di niyo nakikita. But it's expensive to put an elderly person in an assisted living home. It costs about $4000-$6000 a month (approximately Php 188,700)," reveals Eric.


SYNOPSIS. Nobody, nobody but...Juan tells the story of a U.S.-based senior citizen named Juan (Dolphy) who lives in a senior citizens' home run by his son (Eric Quizon) and daughter-in-law (played by G Toengi). Juan's favorite pastime is watching Wowowee on The Filipino Channel. He does not watch the show just for entertainment's sake. Aside from wanting to connect with the Philippines that he dearly misses, Juan is lonesome for his first love Aida, with whom he lost touch during the Japanese occupation of Manila. Wowowee is Juan's way of coping with homesickness and reliving the past.

When watching Wowowee is banned in the home, Juan takes drastic measures to watch his favorite TV program. In his quest, he crosses paths with his old friend Tu (Eddie Garcia) who used to be his partner in the vaudeville duo Juan Tu. Pokwang is cast as the partner in crime of Tu.

Juan is then reunited with his long-lost love Aida (portrayed by Gloria Romero). Will they have a happy ending after all these years?

The young Aida is portrayed by Heart Evangelista, the young Juan is portrayed by Epy Quizon and the young Tu is portrayed by Vandolph Quizon.

Eugene Domingo plays a nurse who takes care of Juan in the senior citizens' home. Willie Revillame is also part of the movie as the host of Wowowee.

Nobody, nobody but... Juan! opens nationwide this Christmas, December 25.
ADVERTISEMENT - CONTINUE READING BELOW