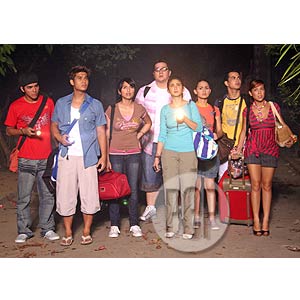 ---
Young stars and veteran actors are cast in Tiyanaks, a Regal Entertainment horror-drama directed by Mark Reyes. Members of a school organization go on a retreat during Holy Week with their professor. However, they lose their way and are forced to bunk in an isolated house that turns out to be a hot spot for the supernatural creatures.
Horror fans will remember that Regal popularized the horror genre in the '80s in movies and television. Tiyanak (cast: Janice de Belen, Chuckie Dreyfus, Carmina Villarroel, Lotlot de Leon, director: Peque Gallaga and Lore Reyes) was one of Mother Lily Monteverde's most memorable and biggest horror movies. Tiyanaks is partly inspired by the 1988 horror flick Tiyanak, but it takes the story further by having not just one but three of these sharp-toothed creatures wreaking havoc on land, water, and air so that no one is safe.
"This is not a remake," explains producer Roselle Monteverde-Teo. "We've made a story that would appeal to the horror fans of this generation. The pacing will be brisk. There's heart-pounding action at every turn. We will also be utilizing plenty of special effects. The production-design team is young and very modern but at the same time [they] evoke a classic feel. After all, we intend Tiyanaks to be a very unforgettable horror movie."
Executive producer Mother Lily Monteverde says, "Although this one is different, Tiyanaks still has a sense of history. Up to now, there are still those who come up to me and say that they remember Tiyanak. They remember the scary image of Janice de Belen holding the small tiyanak. That image haunts me sometimes and so I thought it would be great if we could share that kind of scare with the young people today and at the same time, make the older ones reminisce the past."
ADVERTISEMENT - CONTINUE READING BELOW
Tiyanaks is the first horror movie of director Mark Reyes and the first time that Rica, Mark, and Jennylyn are together in one big horror production.
Only the creepiest, most cinematic sites have been chosen as locations. The film was shot in forests, caves and haunted areas in the provinces. "There are no scenes in the urban places, so shooting is kind of a challenge," Roselle points out.
Tiyanaks also stars Ryan Yllana, Jill Yulo, Alwyn Uytingco, Karel Marquez, Andrei Felix, TJ Trinidad, and Lotlot de Leon who was also in Tiyanak. Nash Aguas, who won Best Child Performer in the 2006 MMFF for the movie Shake, Rattle and Roll 8, makes his second horror film via Tiyanaks.
Tiyanaks screens in theaters nationwide starting Wednesday, July 4.