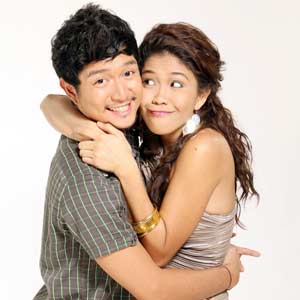 ---
The cinema where I saw The Adventures of Pureza: Queen of the Riles was almost empty. To my left were a young couple who seemed not really interested in the film except for the privacy of darkness, while to my right slumped what looked like a really sad old man.

I first blamed it on the release of Harry Potter and the Deathly Hallows 2 and Temptation Island.

What a sad timing for this movie, I thought. If only this was released at a more, ermm, auspicious time, it would have been received better.
Thirty minutes into the film, I got into thinking that maybe it was good that it was shown together with potential blockbusters so that people who miss out on seats to Harry Potter and Temptation Island will think twice and maybe see Pureza instead. Or couples, like the two on my left side who have, uh, dishonorable intentions can appease their guilt by contributing to the coffers of local cinema.

You see, it took a while for the movie to become funny. It was not just me. I looked around and even the canoodling kids were kind of bored.
So I waited, alternating between texting, making a partial grocery list in my head, and wondering if I can still catch the last Harry Potter screening.
Even getting to the point of this review is taking a while.

So I waited and just kind of embraced the theater-like camp and kitsch and then I laughed just when everybody else started laughing.
And then it hit me, Melai Cantiveros—wiry, brown, and kinky-haired—has a true gift for slapstick.

Melai is Pura Buraot, the loving adoptive sister of Ulam (Martin del Rosario) who takes on odd jobs to put him through college. In her undertakings, she always has by her side, her best friend Ruben (real-life boyfriend Jason Francisco) who is hiding his true feelings for her.
ADVERTISEMENT - CONTINUE READING BELOW

One day, Ulam asks Pura for a big amount of money, supposedly for tuition. Knowing that she will not be able to raise such a sum peddling tahong, or balut, or dancing in an ati-atihan group, Pura pretends to be a Brazilian model and unwittingly becomes tangled in a discord between armed money launderers and a (gasp!) Brazillian model (Bianca Manalo) who ran off with their money and jewels.

Melai, though still obviously making her mark as a comedienne in the same mold as, say, Pokwang or Ai-Ai de las alas, is charming for her shamelessness. In the movie, Melai runs around in showgirl lingerie with poop on her back after a mad goose chase involving a garbage bag.

Jason is merely supportive like all the other characters. In fact, it's really Melai who pulls the movie together.

There really is nothing much to Pureza but good, silly fun, and the traditional dramatic relief on life lessons of loving oneself and loving those who love you in return.

Pureza is directed by Soxy Topacio, who is responsible for a slew of camp comedies including Ded na si Lolo, the Philippines' entry to the 82nd Oscar Awards in 2010. Unfortunately, the movie did not make the cut in the Foreign Language Film category of the Academy Awards.


Direk Soxy also megged the TV remake of Iskul Bukol (2011) and My Driver Sweet Lover (2010).

Completing the cast of Pureza are Bianca Manalo, Gina Pareño, Joem Bascon, Nico Antonio, and Bekimon. Pokwang also appears in the movie as Melai's long lost mother.