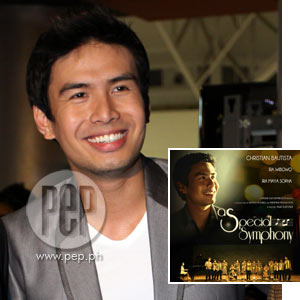 ---
Romantic Balladeer Christian Bautista's first international film, A Special Symphony, celebrates music in a whole different way.
Last night, July 31, at the Robinson's Galleria, Christian was practically mobbed by his fans who attended the premiere of A Special Symphony. The cinema was also filled Christian's family members, friends and members of the press.
Christian said before the film was screened, "Thank you for all the people who came. I hope you'll love the movie. It will surely touch your hearts and inspire everyone."
The renowned singer just got back from Singapore last Saturday, July 30, in time for A Special Symphony's premiere last night. He's currently busy taping for the international musical series The Kitchen Musical with Karylle in Singapore. He is scheduled to fly back to Singapore today, August 1, to continue taping for the series.
A Special Symphony follows the journey of Jayden (played by Christian), a Filipino musician struggling to find his purpose. Most of the key scenes of the film were shot in Indonesia.
Viewers will be able to see similarities and differences in Filipino and Indonesian cultures. The movie shows how life, love, and friendship all combine to produce harmonious relationships.
More importantly, the movie tackles the needs of special children and how music can change their lives. A Special Symphony is endorsed by Autism Society of the Philippines.
Christian also shared his sentiments about the film before it was screened for the first time here in the Philippines, "This film is very important for me. It showed how special children were really special."
ADVERTISEMENT - CONTINUE READING BELOW
A Special Symphony is produced by Nation Pictures Indonesia and is directed by Awi Suryada. It also stars Maribeth, Ira Wibowo, Ira Maya Sopha, and Gista Putri.
The movie will premiere in Indonesia this September.
Filipino moviegoers can watch A Special Symphony starting August 3 in theaters nationwide.