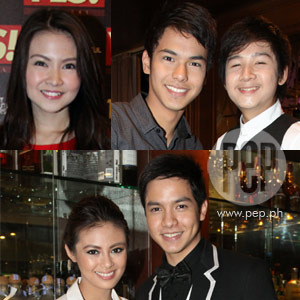 ---
PRESS STATEMENT FROM GMA FILMS:
"GMA-7's hottest teen stars are set to conquer the hearts of moviegoers as they star in the upcoming movie, Tween Academy: Class of 2012 by GMA Films.
"Directed by Mark Reyes, the movie follows an entirely different storyline from the hit TV series and features a new set of characters, each with a unique story to bring.


"The movie stars GMA Tweens Barbie Forteza, Joshua Dionisio, Jake Vargas, Bea Binene, Lexi Fernandez, Louise delos Reyes, Alden Richards, Kristoffer Martin, Joyce Ching and Derrick Monasterio. Also in the cast is Elmo Magalona.
"Barbie Forteza is Kara, a cosplayer and online retailer of collectible toys. Naturally resourceful, she uses her techie skills to help her mom make ends meet for their family.


"Joshua Dionisio plays a geeky toy collector, Robin. He spends most of his time at their family-owned computer shop, while doing other student's computer projects to earn extra income. His liking of comic books and collectible toys will lead him closer to Kara.


"Elmo Magalona is Enzo, the Mr. Fix-It. Perceived as an introvert, he would rather spend time with his gadgets or his two best friends Kara and George.


"Bea Binene is George the boyish friend of Enzo and Kara. Caught up in the "bestfriend syndrome", she tries to hide her feelings for her best friend enemy and instead, helps him get closer to Chloe.


"Lexi Fernandez is Chloe, the typical spoiled rich girl, But underneath her popular school girl facade, Chloe faces issues concerning her weight. She attracts many guys, including Jeremy.


"Jake Vargas is Jeremy or Jepoy, the group's resident rocker. He is head-over-heels with Chloe and tries to get closer to her through his best friend George. In the end, he just might realize that he is chasing the wrong girl.


"Louise delos Reyes is high school sweetheart Jessamine or Jess. She belongs to a poor family but hides this from her circle of friends. She pretends to be rich like her barkada as she desperately wants to be in the "in crowd" with Chloe.


"Alden Richards is Christian, the high school heartthrob. Despite his good looks and popularity in school, Christian is a down-to-earth and friendly person. He is close friends with Robin and he will fall in love with Jess.


"Kristoffer Martin is happy-go-lucky Diego. He carries a devil-may-care attitude, carelessly engaging in one fight after another. He is inseparable from his scooter and has a girlfriend named Ashlee.


"Joyce Ching is Ashlee, a diligent working student. She juggles her time between school and work, leaving her almost always stressed out. She is a good influence to her boyfriend Diego.


"And finally, Derrick Monasterio is Maximo, the resident school bully. He puts on a strong front but is actually a coward inside. He likes to pick on George and Enzo."


Get to see all of them when the movie opens this August.
ADVERTISEMENT - CONTINUE READING BELOW