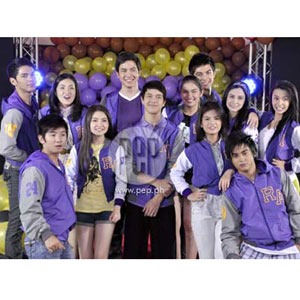 ---
Growing up is a tormenting period. Stepping up to peer pressure, searching for one's place, needing to belong, getting past a first romance—all these constitute the challenges of the young adult.
Tween Academy: Class of 2012 deals with the pains of tweens, or those undergoing the stage between childhood and adulthood, and conquering fears to discover one's self.
The story centers on the lives of three friends—Enzo (Elmo Magalona), a timid boy who has yet to find faith in himself; Georgina (Bea Binene), a boyish and athletic girl who falls in love with her childhood friend Jepoy and struggles to express her feelings; and Kara (Barbie Forteza), an outspoken, anime fanatic who hides her identity from an acquaintance in her online retailing business.
Although they are strongly bonded, they are infamously called the Imba Trio or the invisible three who are the butt of jokes and nasty tricks in their high school.
The threesome is presented at the beginning of the story attending a junior-senior dance which also makes known the kind of status quo that dominates the school. Ruled by cheerleaders, bullies, and jocks, the high school is no place for the Imba Trio to be themselves, least of all, express their uniqueness and prove their worth.
An accident occurs during the school dance that leads Enzo to ruin queen bee Chloe's (Lexi Fernandez) dress. The three get in trouble as Maximo (Derrick Monasterio), the school bully, gets back at the three for making a scene. After being ganged up on by the mean boys and later, being saved by the school's good guy—jock and heartthrob Christian (Alden Richards)—the three friends realize that their whole high school lives cannot possibly be just about getting kicked around by the popular tweens.
ADVERTISEMENT - CONTINUE READING BELOW
Enzo, Georgina, and Kara then dare each other to "face their fears" and find their own place in their school. They make a bet amongst themselves "to be somebody" before the high school's prom night comes around.
Little do the Imba Trio know that their game will lead them to step out of their invisible zone and discover what they are truly made of.
Mark Reyes's Tween Academy: Class of 2012 primarily portrays the young adult at present. The film is a good means for grownups, parents and elders to get to know their tweens and also realize that the issues and pains of growing up have not changed over the years. Although the film creatively presents the tweens in a modern setting defined by their own generation's language, fashion, and technology, their struggles are the same.
For one, young love is a major theme that Tween Academy tackles. Most, if not, all of the characters are involved in a romance—a matter that sets the record straight to parents and tweens as well. Getting crushes, developing a special relationship with the opposite sex, mutual understanding, and falling in love is pretty much normal especially during the young adult stage when hormones are raging. The film sets an example for tweens not to hide such experience from their parents because all they demand is honesty. It is significant that Tween Academy opens up the topic of young love to parents and their teenagers.
The film depicts young love through the challenges faced by the different love teams.
ADVERTISEMENT - CONTINUE READING BELOW
The love team of Diego (Kristoffer Martin) and Ashley (Joyce Ching) portray young adults struggling to keep secret their relationship from Ashley's parents. Towards the end of the film, the two find out that Ashley's father has in fact known all along what they have been up to. To the two young lovers' surprise, the father turns out to respect and trust their relationship.
Meanwhile, Enzo's shy character falls for an older woman, his geometry teacher named Ms. Maddie (played by Sam Pinto). While his teacher paves a way for Enzo to gain confidence in himself, he misinterprets Ms. Maddie's efforts to help him. He ends up learning a lesson in love.
Another theme that the film deals with is that of challenging the status quo. The very act of "daring" one's self to go the extra mile always finds one uncovering his inner strength and abilities. Tween Academy in fact dares the young adult to brave that varsity tryout or glee club audition, to express one's uniqueness, or even to make known one's true feelings for a significant other. Georgina's character, a role that fits the sweet-faced Bea Binene, sheds light on this theme, as Georgina pushes herself to become a better football athlete.
Lastly, Tween Academy conveys a message for the young adult to be true to one's self despite judgment from peers and being singled out just because one feels differently from what the status quo dictates. What makes a person different is in fact what makes one special.
ADVERTISEMENT - CONTINUE READING BELOW
Although it was a good attempt that the film created subplots for each of the twelve tweens to have a share in the spotlight, the main storyline gets patchy and too trying. It was highly ambitious of the film to fit in the subplots, for instance, of Chloe and Maximo, or of Christian and Jessamine (Louise delos Reyes)—love teams that the film seems to be teeming with.
The storyline, as it makes twists and turns in the lives of all twelve tweens, feels contrived because of the subplots. There are also guest appearances of Marian Rivera, Dingdong Dantes, German Moreno, Jojo Alejar, and the Azkals, that might distract viewers from the main focus of the film. The movie could actually stand on its own as it genuinely wants to reach out to young adults.
Nonetheless, Tween Academy: Class of 2012 displayed a set of promising young actors and actresses. It should be interesting to see them in individual projects that could actually focus on their talents. Alden Richards and Louise delos Reyes, as well as Lexi Fernandez, Yassi Pressman and Derrick Monasterio, could perhaps deliver a performance that would actually display their skills.
Tween Academy: Class of 2012 will open in cinemas nationwide by August 24, 2011.