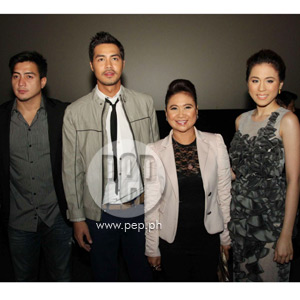 ---
The fact that Wedding Tayo, Wedding Hindi is topbilled not by an established love team but by two actresses known primarily for making people laugh says a lot about the movie's lead stars, Eugene Domingo and Toni Gonzaga.


Both Eugene and Toni have a proven track record of being able to carry a project to both creative and box-office successes.


They got to work together for the first time via director Jose Javier Reyes' latest big-screen pleaser, a romantic comedy jointly produced by Star Cinema and OctoArts.
Toni and Eugene play cousins Belay and Precy, whose respective love stories and dilemmas represent the opposing sides of the movie's title. "Wedding Tayo" refers to Belay's impending marriage with her boyfriend Oca (Zanjoe Marudo) while "Wedding Hindi" is about Precy's plan to end her 18-year union with her husband Ben (Wendell Ramos).
Belay, who comes home after a three-year stint as an entertainer in Japan, is lovestruck but as she and Oca start preparing for their wedding, she begins to realize that they may not be meant for each other after all. Precy, on the other hand, is so fed up with Ben that she leaves the house she shares with him and their two kids. However, as she plots to legally kick him out of her life, she begins to see the positive changes in him, which, in turn, softens her resolve.
Both Toni and Eugene clearly committed themselves to their roles. Toni was especially effective in showing the transformation of her character from the "Manang" Belay to the Japayuki Maribel. She sashayed in sexy outfits, gabbed in gay lingo and really made her presence felt wherever she went.
ADVERTISEMENT - CONTINUE READING BELOW
Eugene's Precy is not very different from her character in Working Girls 2010 (also by Direk Joey) minus the presence of a man aside from her hunky but spineless husband. But Eugene was still able to make the material fresh and entertaining. Her punch lines, although sometimes buried under long dialogues, and antics elicited laughter from viewers.
The lead actresses get ample and able support from their co-stars, especially those who were tasked to deliver informative lines. Lou Veloso and Vangie Labalan (as Precy's parents) made the family's discussion on legal separation and annulment sound believable. Odette Khan was perfect as Precy's mother-in-law from hell. The way she expressed disgust for her daughter-in-law was priceless. Irma Adlawan likewise made it easy for the audience to understand why Oca is such a mama's boy and why living under one roof with her would be a challenge for Belay.
Wendell and Zanjoe breezed through the hunky and spineless aspects of their characters. But they shone in scenes where their characters made their own realization to straighten up their acts. Wendell hasn't lost his sex appeal as he matures as an actor while Zanjoe shows that he definitely developed his acting skills in his few years in the biz.
Of course, Direk Joey, who also wrote the screenplay, can be credited for a lot of those shining moments. He really knows how to use comic timing in his movies and from his actors.
However, the movie was dragged down by its tendency to be repetitive and frantic. Sure, Filipinos love to eat, hang out and roam around but must the characters be limited to those activities as they exchanged lines? Their hysterics and decibels could've been restrained as well.
ADVERTISEMENT - CONTINUE READING BELOW
Still, Wedding Tayo, Wedding Hindi is a must-see even if one is not contemplating getting into—or out of—marriage.