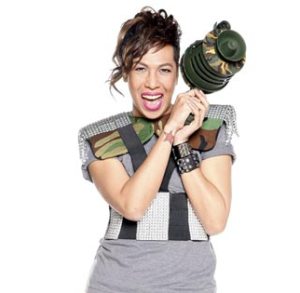 ---
Vice Ganda proves in his latest starrer, The Unkabogable Praybeyt Benjamin, that he is able to carry a movie by sharing the load and the limelight with his co-stars; together they produce a fairly consistent rib tickler that can be appreciated by a wide audience.
Vice plays Benjamin "Benjie" Santos VIII, who, according to his grandfather (a military general played by Eddie Garcia), is a disgrace in their clan of distinguished warriors and soldiers because he is gay.
But with the love and acceptance of his father (Jimmy Santos), mother (Malu de Guzman) and two younger sisters, Benjie doesn't feel inferior. He's also proud of his work as a teacher of cultural dances in a public school and even performs a singkil--with him dancing the princess part--at his grandfather's birthday party.
The need for Benjie to assert his masculinity arises when the country is besieged by terrorists and goes under a civil war. Military service becomes mandatory for every male in each family to replenish the dwindling defense force and rescue those in captivity, including his grandfather.
Benjie fears for his father's ailing health so he secretly goes to the boot camp and enlists himself to the training. He joins a platoon made up of misfits: a weirdo (Vandolph Quizon), a nerd (Kean Cipriano), a boy-wannabe (Nikki Valdez), an obese (Ricky Rivero), dimwit (DJ Durano) and a scaredy-cat (Jojit Lorenzo).
Then he falls in love with their dashing leader, Brandon (Derek Ramsay).
Punch lines and gags abound as Benjie and company go through drills and hardships. They become good friends and decide to stick together till the end--when they accidentally discover the hideout of the terrorists, whom they prevail upon using mostly Benjie's father's ingenious weapons, and they become national heroes.
Benjie earns the respect and admiration not only of his grandfather but also of the whole Santos clan. They accept his sexuality and even speak his lingo. Mission is more than accomplished.
ADVERTISEMENT - CONTINUE READING BELOW
Director Wenn Deramas accomplished his task, too. Ditto for Vice and the rest of the cast--main or supporting, with or without speaking lines. All of them made sure that laughter is in steady supply, even in those supposedly dramatic scenes. That's why all crying scenes could have been avoided as they only felt forced and out of place.
A point, in this case, the acceptance of Benjie's homosexuality by his grandfather in particular and by society in general can be delivered even without tears.
Praybeyt Benjamin is graded B by the Cinema Evaluation Board. It is currently being screened in cinemas nationwide.