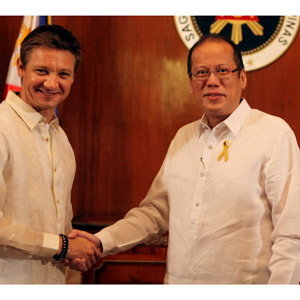 ---
Hollywood actor Jeremy Renner was wearing a Barong Tagalog and fatigue colored cargo pants when he met with Philippine President Noynoy Aquino yesterday, February 22.


The Bourne Legacy star was accompanied by executive production manager Daniel Stillman, executive producer Patrick Crowley and his Filipino counterpart, Jun Juban, for the 10 a.m. appointment at Malacañang Palace.


There are six shooting days left for the action spy thriller that has been shooting in the country since January 11.


Based on a report of the Philippine Star, the group gave PNoy DVD copies of the previous Bourne movies namely The Bourne Identity, The Bourne Supremacy, and The Bourne Ultimatum. These previous installments starred Matt Damon in the lead role. Jeremy also gave the Chief Executive copies of his former action flicks such as The Town and The Hurt Locker.


The other lead stars, Rachel Weisz and Edward Norton, have already left the country, according to the Philippine Daily Inquirer.


Ginger Conejero of ABS-CBN News was able to interview Jeremy briefly after the courtesy call. When asked regarding his stay in the Philippines, Jeremy admitted, "It's fantastic...are you kidding me?"


Has he fallen in love with the Philippines?

"Many things about the Philippines," he said with a smile.


Presidential Communications Development and Strategic Planning Office Secretary Ricky Carandang pointed out that the producers were glad that the Philippines became the setting of The Bourne Legacy. Aside from shooting scenes in Manila, there were also key scenes shot in El Nido, Palawan.


"They were happy that they chose to film in Manila rather than the other locations they considered in Vietnam and Indonesia," Carandang was quoted as saying by the Philippine Star. "The President in turn thanked them for choosing the Philippines and expressed hope that this would boost tourism and lead to more film productions being done in the country."
ADVERTISEMENT - CONTINUE READING BELOW


Before his guests left, PNoy gave them a box of chocolates bearing the Presidential seal and two coffee table books. The first one discussed his inauguration as President in 2010 while the other, titled Noynoy's Sisters: Ballsy, Pinky, Viel & Kris, describes the experiences of the Aquino siblings from the time of Cory Aquino's death until Noynoy's inauguration as President.