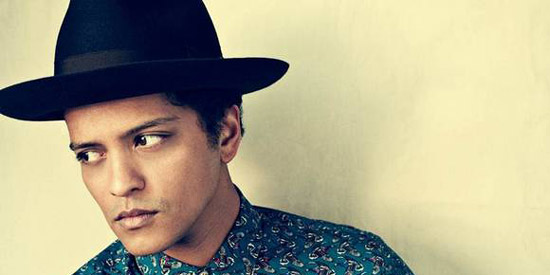 ---


PRESS STATEMENT:


"Unorthodox Jukebox is the second studio album by American singer-songwriter Bruno Mars via Atlantic Records. The first single, "Locked Out of Heaven", was released on October 1, 2012 and received positive reviews from critics. Andrew Unterberger from Pop Dust called it one of the best songs of 2012.


"The album includes production from Mark Ronson, Jeff Bhasker (the producer behind songs including Fun.'s "We Are Young" and other works from Kanye West and Beyoncé), Emile Haynie, Diplo (who is known for his work with artists including M.I.A, Beyoncé and Supa Dups), as well as The Smeezingtons. Mars notes that the album will be more musically varied and that he refuses to "pick a lane". Mars has also been in studio with Benny Blanco and Paul Epworth. Regarding his production contributions, Blanco says "I got a really cool song with him. Me and Paul [Epworth] just got together and Bruno wrote an amazing song on top of it. It kind of all came together. Discussing the song, Blanco states, "It's like some throwback Nina Simone type shit, like 'Sinnerman." However, it's unknown if these songs will be featured on Mars sophomore album.


"Mars also worked with guests like jazz iconoclast Esperanza Spalding, and electronic producer Diplo. Mars claims to have taken each producer beyond their comfort zone. On the recording of the song "When I Was Your Man" Mars states, "I'm never singing another ballad again,' but that came from the gut – it's the most honest, real thing I've ever sang...When there are no safe bets, that's when I feel my blood move." Mars also claims that "Diplo has all the sounds in his computer to make the club go wild" to which Diplo replied "In our generation, he's the most talented guy I've worked with".


"The Police-ish lead single, "Locked Out of Heaven," the Daft Punk-worthy disco groove "Moonshine", while "Gorilla" features a thundering, DefLeppard-huge. "When I Was Your Man," a stark breakup ballad stands out amidst the edgy production, featuring only piano and Mars' raw, intense vocals. "Old & Crazy" is considered by Jeff Bhasker "kooky, true-jazz classic, like 'Pennies From Heaven'. "It's sounds like a song you'd hear in a club in 1920s Paris". In what concerns the lead single "Locked Out of Heaven," Mars said that Ronson brought in the rhythm section of his frequent collaborators the Dap-Kings to achieve a crisply syncopated, locked-in groove. "It's hard to create sounds with live instrumentation that bump in the club, and Mark Ronson did it here."


"Gorilla" has a risqué subject matter: "It's about good old animalistic sex," Mars says. The lyric "Got a body full of liquor with a cocaine kicker". The record "Money Makes Her Smile," is a tale of a gold-digging super freak, that was written by Diplo and The Smeezingtons to be a strip-club anthem." Mars stated in an interview with Billboard: "This is me going into the studio and recording and writing whatever I want. This album represents my freedom. I've had big record label presidents look me in the face and say, 'Your music sucks, you don't know who you are, your music is all over the place, and we don't know how to market this stuff. Pick a lane and come back to us.' That was disgusting to me, because I'm not trying to be a circus act. I listen to a lot of music, and I want to have the freedom and luxury to walk into a studio and say, 'Today I want to do a hip-hop, R&B, soul or rock record'. "We took some master chefs into the kitchen with no master plan," says the singer, 27. "It was either going to be a disaster, or we were going to come out with something incredible.", says Mars in the interview. "It turned into this soulful, experimental, electronic, hard-to-explain thing," Mars said of the freewheeling sessions that led to the production of his second solo album Unorthodox Jukebox when interviewed to the Rolling Stone."That's the reason behind the album title", he added. He wanted to create something unexpected with the follow up of his smash 2010 debut album, Doo-Wops & Hooligans.


"Locked Out of Heaven" was released as the lead single from the album on October 1, 2012. It has been described as having strong influences of New Wave, with striking resemblances to "Message in a Bottle" and "Roxanne" by The Police, The Romantics' "Talking in Your Sleep", and even Michael Jackson's "Beat It", while some have mildly referenced it to The Outfield's "Your Love". It's unknown if "Young Girls" will serve as the second official single.


"Unorthodox Jukebox is manufactured and distributed by Warner Music Philippines and will be available on CDs and iTunes."


Ed's Note: When content falls under "Press Statement," this means that the material is fully and directly from the company issuing the press release. The use of open-and-close quotation marks to envelope the entire text shows as much. This also means that PEP is not the author of the statement being read. PEP is simply providing the information for readers who may be interested.



ADVERTISEMENT - CONTINUE READING BELOW