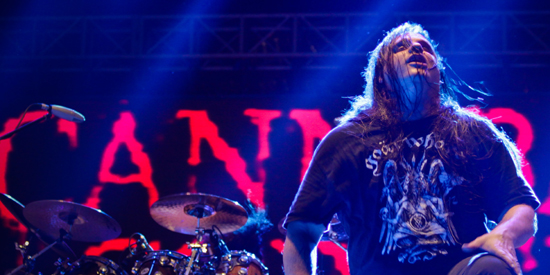 ---
Rock and heavy music was once again proven alive and kicking with the recently concluded Pulp Summer Slam 13: 'Til Death Do Us Part last April 27, 2013 at the Amoranto Stadium in Quezon City.


Several technical difficulties and the heavy outburst of rain were no match to the frenzy created by seven international acts: Amoral, A Skylit Drive, Circa Survive, Dragon Force, Coheed And Cambria, As I Lay Dying and Cannibal Corpse. They were joined by four local heavy rock acts: Philia, Mr. Bones & The Boneyard Circus, Chicosci and Kamikazee.
Chicosci opened the show with their combination of hits and a couple of songs from their latest album This Is not a Chicosci Record. Philia, fronted by Mona Munoz, showed that even ladies can rouse moshpits just as well as the men. Mr. Bones & The Boneyard Circus braved the strong rains to put on one helluva set punctuated with Munoz joining the Circus for a rendition of "Go Go Dance."
Because of the rain, the gig had to be halted for an hour, but as the cliché goes, "The show must go on." Action resumed with A Skylit Drive's return to Manila since last year's Bazooka Rocks Festival. Anthony Green and the rest of Circa Survive played songs old and new while Dragon Force earned one of the loudest crowd receptions throughout the day with their dazzling display of showmanship and technical prowess.
Coheed and Cambria made good on their promise to return to Manila after their historic rock show in 2010 by playing songs from The Afterman double-album series (Ascension and Descension) and closing with their classic "Welcome Home."
Headbangers moshed to As I Lay Dying's music while the ladies marveled at lead vocalist Tim Lambesis' physique. Cannibal Corpse, one of the biggest pioneers in death metal music, threw down a brutal set, including their trademark classic "Hammer Smashed Face." Kamikazee then held the flag of OPM high with their highly-entertaining and impressive set. Finnish metal band Amoral closed the night on a high note with their rocking music and lead vocalist Ari Koivunen's astounding vocal prowess.
ADVERTISEMENT - CONTINUE READING BELOW