There is a saying that goes "once in a blue moon," which refers to rare occasions.

Now Filipino fans can rejoice because after three years, they are given the rare opportunity to see the Korean pop-rock band CNBLUE. The four-man band will be performing at the SMART Araneta Coliseum this Saturday, June 15.
Hundreds of Boice (official fan club name) went to see the boys of CNBLUE during the open press conference held at SM Megamall earlier today, June 14. The Kpop rock band is currently in Manila for the Philippine leg of their world tour titled Blue Moon: 2013 CNBLUE World tour. High-pitched screams filled the air as soon the boys arrive at the venue.
CNBLUE— composed of Lee Jong Hyun (lead guitar and vocal), Kang Min Hyuk (drums, vocals), Lee Jung Shin (bass guitar, vocals), and Jung Yong Hwa (lead vocal and guitar)— took over the K-pop scene with their hits "I'm A Loner," "I'm Sorry" and "Hey You."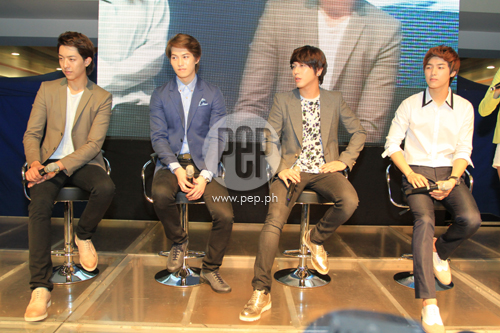 CNBLUE is the first to have a world tour among other famous K-pop idol groups and the Philippines is their 10th stop made possible by Pulp Live Productions.
This is the first time that the band has been in the country and the members are thankful for the warm welcome they received from their Filipino fans. The boys arrived at around 11 a.m. at the Ninoy Aquino International Airport terminal 1 via Asiana Airlines flight OZ701 from Seoul, South Korea.
During the press conference, Jong Hyun said that they are thankful since it's their first time to hold a world tour and they would like to reach more of their fans around the world.
Min Hyuk expressed his excitement upon seeing their fans at the venue. He assured them that they will be performing their previous hits at their concert.
Yong Hwa revealed that they haven't had the chance to try any Filipino food yet. Min Hyuk added that he would love to try local seafood dishes and the famous adobo. Meanwhile, Jung Shin convinced the other members to visit Cebu and go fishing there, if give a chance.
The boys also showed off the Filipino words that they learned including "magandang hapon" and "salamat." Fans went crazy when Yong Hwa performed a line from their song "I'm Sorry," which he dedicated to their Filipino fans.
Yong Hwa is a familiar face for some Filipinos because his television dramas were previously aired in the country. These includes He's Beautiful and Heartstrings. When asked whether he would like accept an acting job in the country, Yong Hwa said that he would love to, given the chance.
Towards the end of the press conference, Pinoy Boice gave Yong Hwa a Simpsons birthday cake to celebrate his 24th birthday on June 22. Yong Hwa quickly thanked his fans and said that he will never forget his visit to the Philippines.
CNBLUE kicked off their world tour in Taiwan last April followed by a series of concerts in Singapore, Thailand, Hong Kong, South Korea and Australia. After the Philippines, the boys will be visiting China and Malaysia as part of their world tour.
For tickets to Blue Moon: 2013 CNBLUE tour in Manila, call Ticketnet at Tel. No. 911-5555 or visit http://ticketnet.com.ph