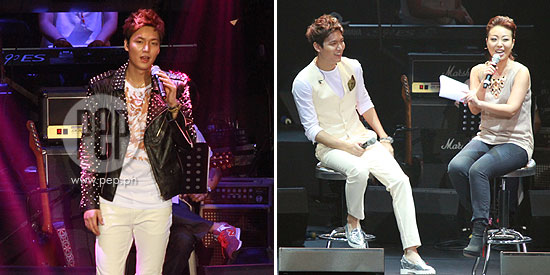 ---
Korean superstar Lee Min Ho performed last Saturday, July 6, at the Mall of Asia Arena for the Manila leg of his My Everything World Tour.
The star of Boys Over Flowers and City Hunter showed thousands of his fans who came to the venue that he could sing as well as dance.
Min Ho opened his concert with the carrier single of his first album, My Everything, which was released only this year, followed by "You and I."
Serving as interpreter for the Korean star and his fans was 99.5 RT DJ Sam Oh, a Korean who has been living in the country for twenty years now.
Sam acted as interpreter, delivering Min Ho's message to his fans and then sat down with him for a 15-minute "getting to know" portion.
"Mahal ko kayo!" was Min Ho's greeting to his fans, which was met with wild cheers in return.
ADVERTISEMENT - CONTINUE READING BELOW
It's his second time in Manila, how has it been like so far?
Sam translates Min Ho's answer, "He says, the first time he visited, sobrang natuwa siya sa mga fans in the Philippines.
"He's very happy to be back soon, a second time. And unlike last time, kita niyo naman, concert na ang fan meeting ninyo. So he hopes all of you will have a great time."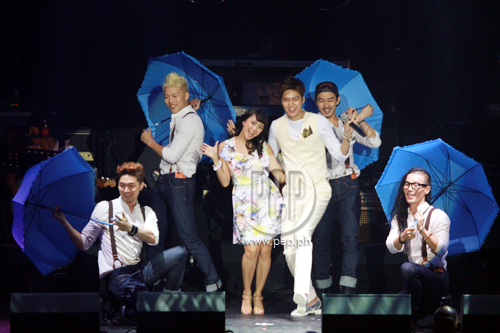 (View photos: Lee Min Ho concludes My Everything Tour 2013 in Manila)
The last time he was in the Philippines, Min Ho tried the local Pinoy dish, adobo. He tried another one this time around.
"I ate kare-kare last night," Min Ho told the crowd in English. As for his favorite Filipino food, Min Ho reveals that he likes fishballs.
What other activities would he would like to try if returns to the Philippines? Min Ho replied that he would like to try surfing.
ADVERTISEMENT - CONTINUE READING BELOW
Through Sam, the Korean actor narrated how he got into singing. "Four years ago, he started doing these fan meets and he would be asked to sing once in a while.
"So naisip niya na daw mga two years ago na maybe this is something he should try, maybe he should start singing.
"And it was only this year that he was really able to prepare at andito na siya with his new album which is called My Everything."
Min Ho also reveals why he chose the title My Everything for his album. Sam translates that the carrier single titled "My Everything" was the "first song na he really felt like he communicated with his fans through a song.
"So special sa kanya yung phrase na yun, the title 'My Everything.'
"And then of course, he feels na kayo—his fans—are his everything kaya ang title ng kanyang global tour at album ay 'My Everything.'"
ADVERTISEMENT - CONTINUE READING BELOW
Sam came up with a separate segment she called Lee Min Ho's secret profile wherein a white board was shown containing Min Ho's answers to a set of questions.
What is a recent Tagalog word he learned? Sam translates, "So recent Filipino word na nalaman niya is 'maganda' kasi he wanted to use it daw whenever he met a beautiful Filipina lady.
What is the first food you tasted in Manila during this visit? Kare-kare.
What do you like most about Manila?
"So what he likes about Manila is that when you come to this city, you get a very metropolitan city as we said earlier, but you also have bodies of water.
"So it's the mixture of these two things in one city that he likes best about Manila."
You have been the model for Bench for some time now. Why do you love Bench?
"His favorite thing about Bench is the versatility. Kahit ano yung gusto mong fashion, may mahahanap kayo sa Bench.
"So this is what he loves about that. It's versatility. You can put together whatever outfit, whatever look you feel like for that day."
You have a Line account. What is your favorite icon?
"Sabi niya, ginagamit niya raw 'to…Actually, ang expression ng icon na 'to is 'I don't really wanna talk to you' or medyo, 'I'm feeling down.'
ADVERTISEMENT - CONTINUE READING BELOW
"Kaya dapat i-add niyo na siya sa Line para you can cheer him up, okay! Para hindi na niya gamitin 'tong icon na to."
What would you like to say online tonight? "Masaya ba kayo?" Min Ho asked the crowd in Tagalog.
After the interview, K-pop group Monsterz (composed of three guys who call themselves S.I.C, One Shot, and Komo) did a lively song and dance intermission number.
Min Ho resumed his show with his rendition of "Pieces of Love," "Love Motion," and My Little Princess," accompanied by props and a skit.
A raffle was then drawn wherein ten lucky winners were able to come up onstage and receive a gift pack from the Korean heartthrob.
When asked to give her message to Lee Min Ho, one of the raffle winners had the guts to say, "I love you." To this, Min Ho said with a smile, "I love you too."
That elicited thousands of other fan girls to scream out of envy for the lucky girl.
ADVERTISEMENT - CONTINUE READING BELOW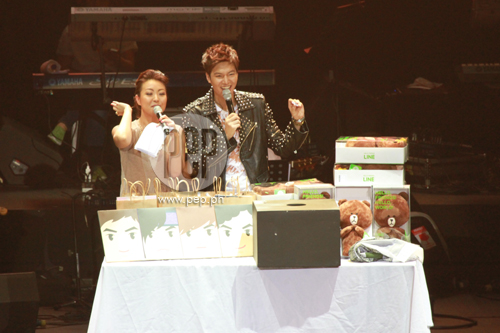 The eleventh raffle winner received an autographed jacket that Min Ho himself wore the day before the concert.
For his final message, the Korean star said through Sam that he was very, very happy to see his Filipino fans again. He also emphasized that he loves his fans very much.
ADVERTISEMENT - CONTINUE READING BELOW
Then, he performed the dramatic song "Without You" before leaving the stage.
After a few minutes, he came out for his encore with a charming performance of "Say Yes," in which he did a little "butt dancing" as he had promised.
(Watch video: PEPARAZZI. Korean superstar Lee Min Ho fulfills "butt dance")