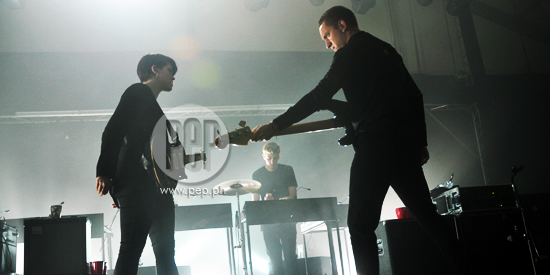 ---



"Mesmerizing" is the best way to describe the music of the English indie pop band The XX. The trio—composed of Romy Madley Croft on guitars, Oliver Sim on bass, and multi-instrumentalist Jamie Smith—sucessfully concluded their one-night-only concert at NBC Tent in Taguig City last night, July 30. The concert was organized by Random Mind Productions.
Before 7 pm, fans started to line up to witness the hypnotic and dreamy performances of the the English indie pop band. The XX performed around 10 p.m. but their fans waited patiently for the band's performance.



Taken By Cars and Up Dharma Down opened the concert for The XX at NBC Tent, Taguig City. Photo by Abby Mendoza
Before the main attraction began, indie rock bands Taken by Cars and Up Dharma Down warmed up the concert venue. Taken By Cars welcomed the audience with their performances of "Shapeshifter" and "This Is Our City," among others. Up Dharma Down turned up the heat even more when they performed "Turn It Well" and "Feelings" from their 2012 album Capacities.
The members of The XX took the stage wearing all-black ensembles giving them a mysterious look and a vampiric appeal. The stage was minimalist, not a single LED screen in sight and with only their instruments on the stage. Strobe lights played around the venue as the band played their austere hymns.
The XX performed live on stage for the first time in Manila last night, July 30. Photo by Abby Mendoza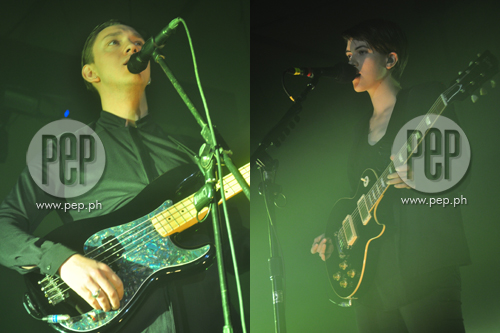 Oliver Sim (left) and Romy Madley Croft (right). Photo by Abby Mendoza
The music of The XX has a hypnotic and gloomy appeal with the vocals perfectly matching the slow tempo and deep tones of their bass. The group's performance was sensual and passionate which can be felt from every strum of their guitars.
Romy and Oliver's vocals were two different tones that perfectly compliment each other—both of them haunting and beautiful at the same time. With mostly monotonous vocals, Oliver's deep and resonant voice harmonized with Romy's honeyed and silvery tone. Their voices surrounded the concert venue and provided an eerie and surreal ambience.
ADVERTISEMENT - CONTINUE READING BELOW
During the second half of the concert, eyes feasted on ethereal light displays as The XX perform some of their most famous anthems: "VCR," "Islands" and "Chained." For a moment, the group expressed their gratitude for their Pinoy fans who extended their warm welcome.
While The XX didn't interact much with the audience, their Pinoy fans gave them loud cheers which the group admittedly did not expect. An Instagram photo was posted on their official account with the caption: "Salamat/Thank you Manila. Your energy was unforgettable! xx The xx"
Photo uploaded by @the_xx_ on Instagram
The XX performed "Infinity" for their encore. Their instrumental song "Intro" literally introduced the final song "Angels." Other songs they performed that night include "Heart Skipped a Beat," "Crystalised," "Reunion," "Far Nearer," "Sunset," "Missing," "Fiction," "Night Time," "Swept Away," and "Shelter."
Celebrities spotted at the event were Anne Curtis, Erwann Heussaff, Georgina Wilson, Borgy Manotoc, Raymond Gutierrez, Gwen Zamora, siblings Saab and Frank Magalona, Megan Young, Bianca King, Hannah Romawac-Olives, Chino Lui-pio, and Raymund Marasigan. Senator Nancy Binay also went to see the indie pop band perform live.


(View photos: Indie band The xx rouses sweet nostalgia in Manila gig)