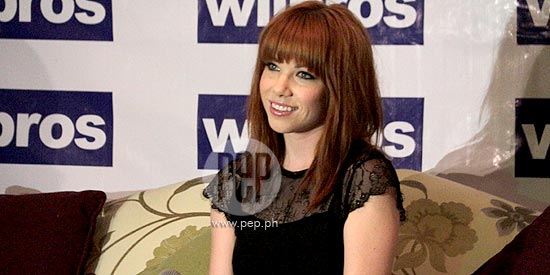 ---
Canadian singer Carly Rae Jepsen is all set for her concert in Manila this Wednesday, August 7, at the Araneta Coliseum.
Carly revealed how "Call Me Maybe" changed her life during her press conference held at the Makati Shangri-La Hotel earlier today, August 6.
"CALL ME MAYBE." Her hit single "Call Me Maybe" became viral on YouTube after some celebrities like Justin Bieber, Selena Gomez, Ashley Tisdale and others shot themselves lip-syncing and dancing to the upbeat song. It began to top almost all music charts including the iTunes Top 10 chart.
How did "Call Me Maybe" change Carly's life?
"It kinda put everything upside down for me," admitted the 27-year-old singer.
She continued, "I was doing my thing in Canada. I always wanted to pursue a career in music. I always have...since I was seven years old I wanted to do this.
"My dreams were a little bit too limited so I just wanted to have a career in Canada.
"I think at the back of my head I dreamed that one day it will be a worldwide thing but it was sort of like a fairy tale than a real actual possible thing.
"But once 'Call Me Maybe' took off I've been travelling insanely.
"I have a team with me now, I have people who support.
"It's crazy!
"It's cool to have a dream and have so many people support your vision.
"I feel very lucky!"
Does she feel any pressure about making another single?
"I actually get asked about that a lot," said Carly with a smile.
She explained, "For me I just feel so much gratitude that I even have a song like that when I was working in Canada to pursue a career in music.
"I had a mini goal to myself to make it on the top ten charts on iTunes. The fact that the song not only got to number one but this song [became known] worldwide, it's a total unexpected dream come true.
ADVERTISEMENT - CONTINUE READING BELOW
"And I am lucky with my new situation now there's just this incredible opportunity to platform...to share the rest of my music so whatever happens with that it's just going in to my book."
Among all the versions of "Call Me Maybe" uploaded on YouTube, which one is her favorite?
The child in Carly revealed, "I always say this but it's the truth but I think my favorite is probably Cookie Monster of Sesame Street.
"I grew up watching that show and I never thought that one day Cookie Monster would sing a song I wrote."
NEW HAIRDO. Carly surprised everyone inside Pasay Room A, Makati Shangri-La hotel today when she came out with short hair with a lighter shade.
To satisfy the curiousity of people regarding the sudden change in her look, Carly told the press that she just had her haircut earlier today before the press conference started. "I honestly cut it this morning."
She recalled how her hairstylist asked her, "How would you like to style your hair?"
Then she instructed, "Cut it all out! Not all of it—just a bit of it."
Carly admitted that it took her a while to modify her hairstyle because she was afraid of change. "I had that haircut since four years old. I have never done anything because I was so terrified of change.
"It was just last year from and to such a whirlwind kind of year, it is more exciting if I change a little so it gave me the guts to go red and do something different."
Carly revealed the story behind the red shade of her hair, "Actually I dyed my hair red because I was involved in Disney's remake of The Little Mermaid and they wanted me to play the part of Ariel then I kept it because I fell in love with my hair."
ADVERTISEMENT - CONTINUE READING BELOW
CARLY RAE JEPSEN LIVE IN MANILA. Fans of Carly are excited to see their idol perform live. What can her fans expect from her concert?
Carly said with a big smile, "Expect the unexpected."
She promised, "I think the one thing I love to bring to the live show other than the continuity is giving out something fresh and new.
"I feel like when I get to rehearse it, I get bored, so to keep things fresh I always try to play interactive with my bandmates, the audience especially and I really feel their energy so we're just gonna put up a pop retro party.
"So it will be a night of singing and dancing."
Carly dares her fans to wear something crazy at the concert, "We really want people to dress really crazy wild because we are zoning out and we call them up on stage during the last number so if you wear something crazy tomorrow watch out, I might call you up!"