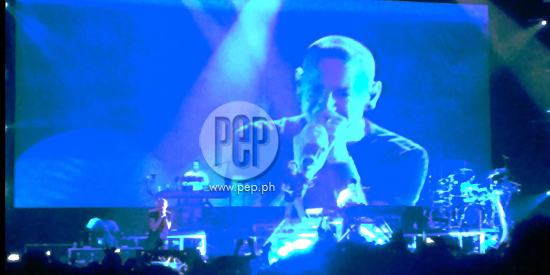 ---
After nine long years, Grammy award-winning band and multi-platinum alternative rock band, Linkin Park, finally made it back to the Philippines.
Last night, August 13, the American rock band performed live in the Philippines for the second time. Their one-night only concert dubbed Linkin Park: Living Things World Tour was held at the SM Mall of Asia Arena. The concert was organized by Scala Events.
Cebu-based rock band Urbandub set the tone of the concert stage with performances of their songs including chart-topping hits "Soul Searching," "The Fight Is Over," "Bright Lights," and "First of Summer," among others. The group also played their latest single "Never Will I Forget" from their latest album Esoteric.
For the first set, Linkin Park greeted concertgoers with their peformances of "A Place In My Head" and "Papercut." Throughout the whole show, Filipinos danced to the tunes as Linkin Park performed their chart-topping hits one after another.
Linkin Park also went minimalist with the stage design boasting a two-storey-high LED screen that showed graphics suited for their epic rock concert.
Linkin Park performs again in Manila after nine long years. Photo by Nikko Tuazon
Other songs they performed during the first half of the concert include: "Given Up," "New Divide," "With You," "Somewhere I Belong," "Lies Greed Misery," "Points of Authority," "Waiting for the End," and "Breaking the Habit."
After a few powerful performances, Linkin Park slowed it down with their performances of "Castle of Glass," "Leave Out All the Rest," "Shadow of the Day," and "Iridescent." As they performed these songs, Filipino Soldiers (as Linkin Park fans called themselves) raised their hands and lit up MOA Arena with their cellphones, making them appear like stars under a deep black sky.
Chester Bennington displayed his powerful vocal abilities, perfectly accompanied by ear-shredding screams and growls. Chester also showed his versatility as he shifted between vein-popping hardcore rock perfomances to soulful and slower versions of rock anthems.
ADVERTISEMENT - CONTINUE READING BELOW
As the night went on, the group performed other fan favorites including "Lost in the Echo," "Numb," "What I've Done," and "Burn It Down" before finishing up up wit their hit singles "In The End" and "Bleed It Out."


Mike was the most active when it comes to interacting with their Pinoy fans. While performing the massive hit "In The End," Mike even went down the stage to jam with the crowd.
Of course, a concert is not complete without encore performances. The whole band went back out on stage to perform "Faint," "Lying For You," and "One Step Closer." This time, Chester went down the stage and greeted their fans up close.
Banners saying "Come back soon!" were carried by concertgoers as Linkin Park performed their last song "One Step Closer." Photo by Nikko Tuazon
White banners printed with Linkin Park's logo with the message "Come back Soon!" were carried by concertgoers. Mike saw the message and promised his Filipino fans that they will definitely come back to the Philippines.