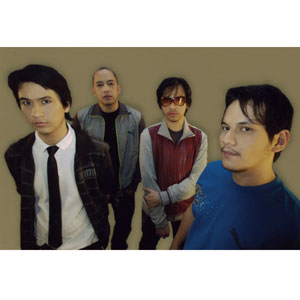 ---
The band Pupil will launch its second album titled Wildlife and introduce its newest drummer, Wendell Garcia, at the Eastwood Central Plaza, Eastwood City, Libis, Quezon City, on November 9.
During the media junket for the said album last October 25, the group was very excited to relate to the press how fast they recorded their newest album and why they chose Wildlife for its title.
Yan Yuzon (guitars and vocals) said that their 12-track album was recorded for only three and half weeks, a half week ahead of their one-month deadline.
He said, "It is, I think, very possibly the fastest recorded album in Philippine history. I don't know, we need to fact check that. After three and a half weeks, lahat ng instrumento, every thing, every single lyrics [sic] was already recorded.
"We intended to complete this in a month but we finished half a week ahead of our schedule. Maybe we would have done another song pero magiging 13, which is the number we don't really like."
The guitarist also described their album as, "A short album compared to what is standard today. Pero we liked it that way kasi concise siya. Maraming sinasabi sa mas maikling oras at gusto namin ng ganun kasi ang tawag doon ay madaling usapan, di ba? Kapag sandali lang, na-communicate na lahat, okay na."
On the other hand, Yan explained why the band chose Wildlife as the title of the album. He said, "The title is Wildlife dahil sine-celebrate niya ang mga unforeseen circumstances ng buhay. You know, as people we would like to believe that we control our lives with the decisions that we make. Up to some extent, we do, but who we are is the result of accident and things that happened na hindi natin akalain. And, you know, some of us even are the actual things na hindi inaakala ng mga magulang natin."
ADVERTISEMENT - CONTINUE READING BELOW
NEW DRUMMER. After describing their album, Yan then added that their album would sound different from their debut album, Beautiful Machine, because of the addition of Wendell Garcia, who will now play the drums for Pupil.
Wendell is a known drummer in the local band scene. However, since he did not have a regular band, he just does sessions with different bands such as Spongecola and 6Cycle Mind.
Yan narrated, "At about the time when we were looking for a drummer, he was playing for my brother's [Yael Yuzon] band. Nagse-session siya doon sa Spongecola so nagkataon na parang sabi namin, 'Does Wendell has a band ba?' So I asked my brother and he said, 'Currently, wala.' He does session works for a lot of bands, wala pa yatang banda na alam ninyo na hindi pa niya nase-session-an.
"Wendell is very professional and nakakasabay na namin siya sa gig dati, matagal na naming siyang alam at napapanood. Nagkataon din na parang very timely na he played for my brother's band and we asked him. Nag-usap sila ni Ely and Diane [Ventura, Ely's longtime partner]. He agreed, and then almost immediately we started recording."
When the media asked Wendell about his working relationship with the band so far, he described, "Masaya. Malaking challenge sa repertoire ang ganitong music, first time ako tumugtog ng ganitong music. I play rock, I play different kinds of music, so ito bago. Talagang sumakit ang ulo ko para isipin yung part ko."
Meanwhile, the group also explained why their former drummer left the band. Yan said, "He had to pursue other things that are not feasible granted the schedule ng band and of course it's very hectic to record an album and tour and promote nationwide, even outside of the country. Ayun another unforeseen circumstance that has later evolved to what it became."
ADVERTISEMENT - CONTINUE READING BELOW
Dok Sergio (bass guitar, vocals) seconded, "Nagpaalam siya sa amin na mayroon siyang kailangang gawin. Actually, si Boga, kabanda ko rin yan sa isang indie band pati doon umalis siya kasi I guess kailangan niya ng more time."
SET ME APART. In their all-original second album, Pupil also included the song "Set Me Apart," which was composed by Diane Ventura, partner and manager of Pupil's frontman Ely Buendia.
"They just gave me the theme or the idea of what they wanted us to make for the target market of Animax," said Diane about how she came up with the song.
Ely further added, "Diane actually came up with two demos, two songs, and that's all it took for them [Animax] to finally decide which song they wanted. The first one didn't make it but we included it in the album. It is now called "Matador," the second track of the album, maganda din kasi."
Yan was also proud to say that they were chosen among the bands in Southeast Asia. He said, "We're very proud to be representative of the channel [Animax] granted that it is broadcasted all over Southeast Asia. Tapos of all the bands in the region, they chose a Filipino band, they chose us to represent the station to what it stands for its market. That's still ongoing and it will continue on board, we have a one-year contract."
With Diane's contribution to the band, Ely was prompted to say, "Incidentally, kung nagtataka kayo we are a unique band in the sense that hindi lang confined with the four members ang song writing duties sa album na 'to. I'm proud to say that Diane wrote the first hit single called "Sala" and she wrote two more songs."
Aside from Diane's " Set Me Apart," Pupil fans should also look forward to hearing the other songs in the album such as "Monobloc," "Talon," "Sumasablay," and Disconnection Notice."
ADVERTISEMENT - CONTINUE READING BELOW