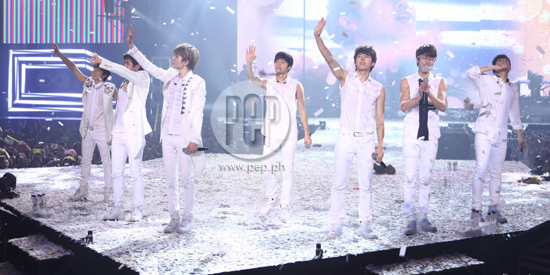 ---
Ten months after its first visit to the Philippines, South Korean idol group Infinite returns to Manila for its One Great Step World concert at the SMART Araneta Coliseum.
Last January 19, the K-pop group first visited the country to perform at the Dream Kpop Fantasy Concert, which also featured Girls' Generation, EXO, U-Kiss, Tahiti, and fellow labelmates Tasty.
One Great Step is Infinite's first world tour that brought them to countries such as Japan, Thailand, Indonesia, China, United States, Mexico, Peru, England, and France, among others. The Manila leg is their 14th stop for their world tour.
Infinite—composed of Sungkyu, Hoya, Dongwoo, L, Woohyun, Sungjong, and Sungyeol—is known for upbeat pop-dance music and complicated in-sync choreography.
Music videos of the group's singles were played before the concert officially started. Fans couldn't wait to see their idols and screams filled the air every time a music video was played on the large LED screens.
The theme of the concert One Great Step revolves around a revolution being planned by members of Infinite against a fictional government that prohibits music.


At the start of the concert, a short film depicted members of the band fighting for their right to play their own music.


When the short film ended, the LED screen covering the stage opened up to reveal members of Infinite locked up inside a cage.
The boys are eventually set free to entertain the crowd with their performances of "Destiny," "Tic Toc," "Paradise," "Wings," and "Inception."
After a few songs, the members of Infinite greeted their fans in Tagalog by saying "Kamusta kayo?"
ADVERTISEMENT - CONTINUE READING BELOW
All of them made the effort to speak in the vernacular by reading the script provided to them.
Sungkyu said, "It's been a while. Matagal-tagal din po tayong hindi nagkita. Kamusta po ang lahat?
"Finally we are here for Infinite's first world tour, One Big Step."
Woohyun observed, "Magaganda pa rin ang lahat!"
Hoya and Dongwoo were both very excited to see their Filipino fans who call themselves Inspirits. Both of them shouted out: "I missed you so much!"
Dongwoo added, "Let's make this night unforgettable."
The duo of Sungyeol and Sunjong then performed the rearranged version of "1/3" from their album Over The Top.
Infinite-H—composed of Hoya and Dongwoo—performed next be giving their rendition of the single "Special Girl."
After the first two spot numbers, the boy band returned on stage to serenade their fans with "That Summer" and "I Like U." The singers even gave away stuffed toys that were eagerly snatched up by their adoring fans.
Myungsoo (also known as L) performed an acoustic version of "Love U Like U" from the original soundtrack of the South Korean drama series, Shut Up! Flower Boy Band, where he potrayed an underground rock band member.
Woohyun performed the song "Beautiful" for his solo performance. Towards the end of the song, Woohyun gave a ring and roses to a lucky fan girl.
The group's leader, Sungkyu, was the last to perform solo. Sungkyu sang a ballad titled "60 Seconds."
Aside from their solo performances, Infinite also performed their chart-topping hits, including "BTD," "Be Mine," "Man In Love," and ended the concert with "The Chaser."
ADVERTISEMENT - CONTINUE READING BELOW
After a few minutes, the members went back on stage wearing white outfits for their encore performances. Infinite performed "Come Back To Me" and "Hysterie" before saying their final words to their Pinoy fans.
Sungkyu was the first one to thank their fans, saying, "I'm really glad to be here to hold the concert for you. I really want to come back here."
"Philippines, and Philippine Inspirits, I will never forget you. I love you, Kamsahamnida."
Dongwoo was overwhelmed by the warm reception he received from Filipino Inspirits. He revealed that he brought his parents to watch the concert.
The 22-year-old singer said, "I spent the most wonderful night with you."
Dongwoo burst in tears when fans started singing the happy birthday song for him in Korean. Seeing their idol crying, the fans chanted in Korean by saying "uljima" which means "don't cry."
Woohyun promised that the he and his bandmates will return to see their Filipino fans once again.
"We will come back. Philippines, I promise. Mahal ko kayo!" he said.
Infinite's One Great Step World Tour in Manila is organized by Uniprom Inc., supported by Asiana Airlines, Pepsi, Crowne Plaza, Astroplus, Myx, JAC Motors, and When In Manila.