Mecca Music CEO Champ Lui Pio was spotted Tuesday night, November 12, during the MYX Mo! 2013 benefit concert held at the SM Mall of Asia Concert Grounds, Pasay City.
PEP.ph (Philippine Entertainment Portal) had a chance to interview Champ, who used to be the frontman of the now defunct band Hale.
For the benefit concert, Champ sent Mecca Music's newest talent, Luigi D'Avola, to perform his debut single "Take A Chance."
"I have Luigi [D'Avola], my new artist from Mecca Music," Champ said.
"He's playing here so I'm here for moral support… to support him.
"It's his first big event so I wanna be here to experience…
"I wanna be here for him when he experiences this magical event."
Champ witnessed the wrath of Typhoon Yolanda in Malaysia where he stayed for four days with fashion blogger Laureen Uy. As soon as he arrived, Champ organized a fund raising event with his talents for the benefit of Yolanda victims.
"I was there for four days, nasa CNN ang Philippines," Champ recalled.
"All I could do was plan… I really planned what to do when I get back.
"So, I immediately called up some friends to get a venue and organize a small fundraising gig for the victims.
"Hopefully, we can get one within the week para next week, we can launch it because every day counts.
"And, like encourage people to help through social media.
"I think that's the best way we can do like… be one with everyone who's really trying to encourage people to help out.


MECCA MUSIC. In 2005, Champ and his bandmates—Sheldon Gellada, Roll Martinez, and Omnie Saroca—released their self-titled debut album with the single "The Day You Said Goodnight" topping music charts for weeks.
The band released 4 full-length albums including Twilight (2006), Above, Over and Beyond (2008), and Kundiman (2009) with Paolo Santiago replacing Omnie Saroca as the drummer.
In August 2010, the band members officially announced their disbandment.


Champ continued with his career by releasing his solo album Synergy on the same year. By January 2011, Champ decided to put up his own label, Mecca Music.
Champ explained, "When Hale disbanded, I felt like I needed a break.
"So, I wanted to do something different but still connected to music.
"That's why I decided to put up a small music company and help musicians because I believe that for the scene to be healthy, there has to be that certain balance between old and new artists."
As CEO of a music company, Champ is faced with a totally different situation as he works for the "other side" of the music industry: the business aspect.
"It's challenging, it's challenging," he told PEP.
"It's fun, it's humbling because it's a different ball game compared to being a singer.
"You get to experience the other side.
"From being an artist, now, I understand how things work for artists to be heard, to get air play, to get publicity.
Synth-pop act Somedaydream (whose real name is Rez Toledo) was the first artist to sign up under Champ's label. However, the performer behind the popular song "Hey Daydreamer" is now managed by Marjohn Music Galore and Daryl Music Enterprise.
Champ shared, "I'm not currently managing Somedaydream anymore.
"His contract expired so, that's it."
In 2014, Champ plans to introduce two new acts under Mecca Music.
"I'm releaseing two new artists.
"Both female, one is a band, [and] one is a band."
LOVE LIFE. Champ is rumored to be dating Laureen Uy, the younger sister of celebrity stylist Liz Uy.


Champ and Laureen were photographed being sweet to each other early this year during a summer event in Palawan.
VIEW PICS HERE: Champ at Laureen bagong celebrity couple?
When asked for the real score between them, Champ simply answered, "I see her a lot."
He added, "I've been seeing her...since early this year."
The 31-year-old musician didn't elaborate further about his relationship with Laureen and told PEP that he wants to keep details about his personal life private.
"I've always been private about my love life so I'll keep it that way."
Champ added, "I've never been really… ever since, I'd like to celebrate my personal life and work wise, music wise."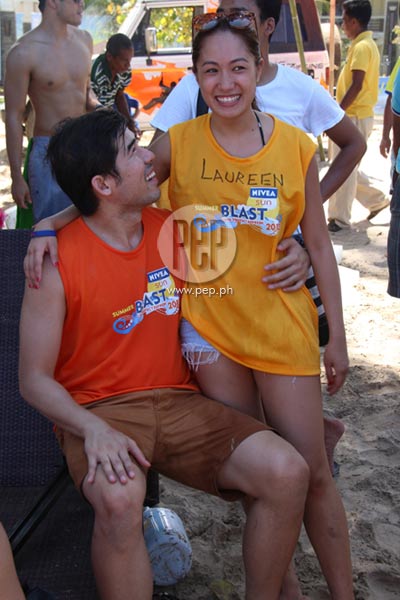 Champ Lui Pio and Laureen Uy were photographed together during the Nivea Summer Blast last March